So… as I mentioned in yesterday's placemat post, I get a little obsessive when I get going with a theme.
Right now it's kitchen accessories.  I've never really had placemats and dishcloths and drying mats and trivets that had any semblance of being a set or matching my kitchen.  And for the five years that we've lived in our house I've gradually transitioned my dishes to white (so they match anything) and the old, faded, worn out kitchen linens are just whatever I have laying around that doesn't have too many holes in it.
No more!
For the past month I've been busy creating matching accessories with my Bernat Handicrafter Emerald Isle cotton and Off-White.
I mentioned yesterday that I was in the car last week for a 40+ hour drive to Texas and back.  When I finished my set of 10 placemats I still had many, many hours to go.  So… I thought… potholder??  Hotpad?? Dishcloth??
and I went to ravelry to search…
I saw a really cool "Wiggle It Crochet Trivet" pattern posted by Tamara Kelly of Moogly and since I pretty much LOVE Moogly (remember my crochet bag?  Yep – a Moogly pattern) and she writes really excellent patterns (very clear with lots of video tutorials in case you get stuck) I thought I'd give it a try.  Besides, it was something called "Wiggly Crochet" which I had never heard of before and it looked like just the new skill to keep my boredom in check as we passed from state to state on beautiful but monotonous highways.
And I'm so glad I gave it a try!  It's SO fun – super easy – a quick project AND… maybe some of the best trivets I've seen because they are SO thick!  Here is what I made!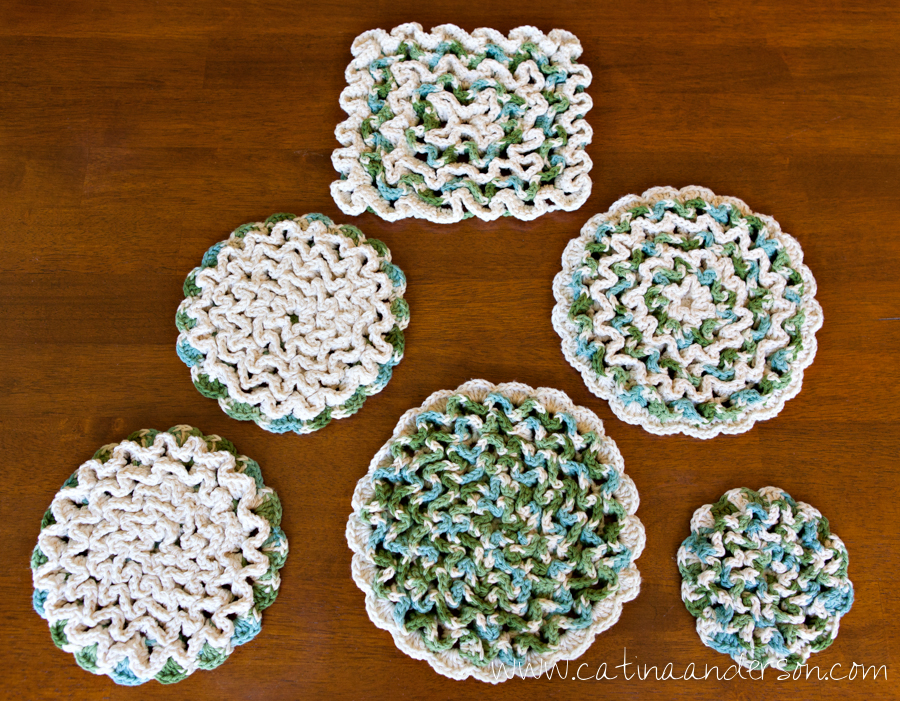 Note, the rectangle trivet is from a different pattern which I will talk more about in a minute.  But first the circular one…
I started with the "dishcloth" size but I think I'll still use it as a small trivet rather than a dishcloth.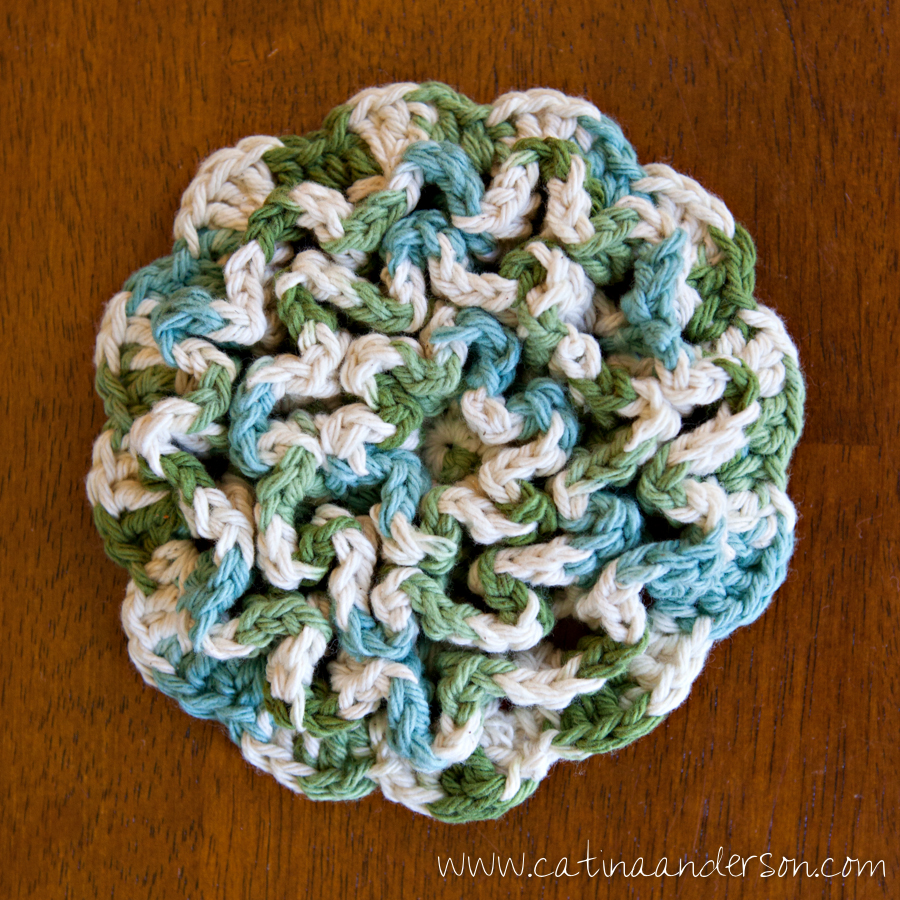 Then I started to imagine what other color combinations might be fun and I made another, and another…
For the medium size trivet I followed Tamara's pattern out to the row where you do the 2 dc in one chain space followed by four repeats of 1 dc in a chain space.  Then I skipped up to the border round.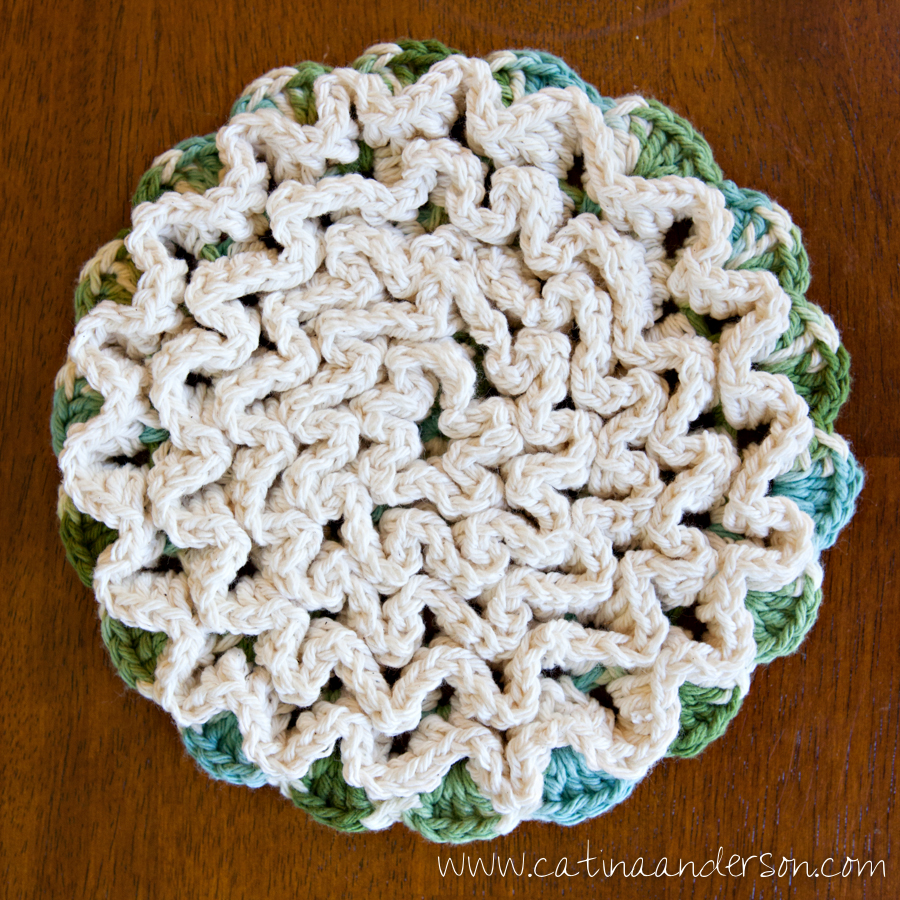 For the larger sized trivet I followed the pattern out to the row where you do 2 dc in one chain space followed by five repeats of 1 dc in a chain space.


I still haven't made one that is the full size as these are plenty big for my pots I think.
Now that I have enough for my matching set I went to my stash to see what I could make without buying new yarn… Christmas colors can be useful!

Check out the back of the trivet.  It's just as pretty as the front!  I really like how these turn out!


And look at how thick they are!  They look like they'll really protect the table.  And they are sturdy enough to really keep the pot up off the surface of the countertop.


After making a few circle ones I decided I'd look for a rectangle trivet for those larger casserole dishes.  I found the hot stuff heat pad from the Craft Yarn council of America and gave it a try.  I like this one too and it's just as sturdy.  The only complaint I have is that the holes are a bit larger.  I found a wiggly crochet how-to the other night that recommended using a smaller hook for the base and a larger hook for the wiggly rows so next time I think I will give that a try to make the holes a bit smaller.

These trivets are really fun to make and they work up fairly quickly.  Thank you Tamara, once again, for your excellent free patterns!  I will surely be making many more of these!
And thank you to the Craft Yarn Council for the Hot Stuff Heat Pad pattern as well!
Somehow having coordinating kitchen accessories makes me want to spend more time cooking.  Well… almost ;).