This discovery last week was one that left me totally stunned.
Did you know there is a waterfall at Frying Pan Farm Park??
I've been there at least 20 times with my children and I had no idea.
Remember last week when I mentioned stumbling upon the visitor's center that I also wasn't aware existed?  Well … while we waited for the kids to use the restroom I started chatting with the people at the desk.  I told them how I had no idea there was a visitor's center and they told me that I had to make sure to visit the nature trail.
"There's a nature trail too?" I asked.
Apparently yes – and also a beautiful waterfall that is part of the most peaceful and amazing rock covered stream area.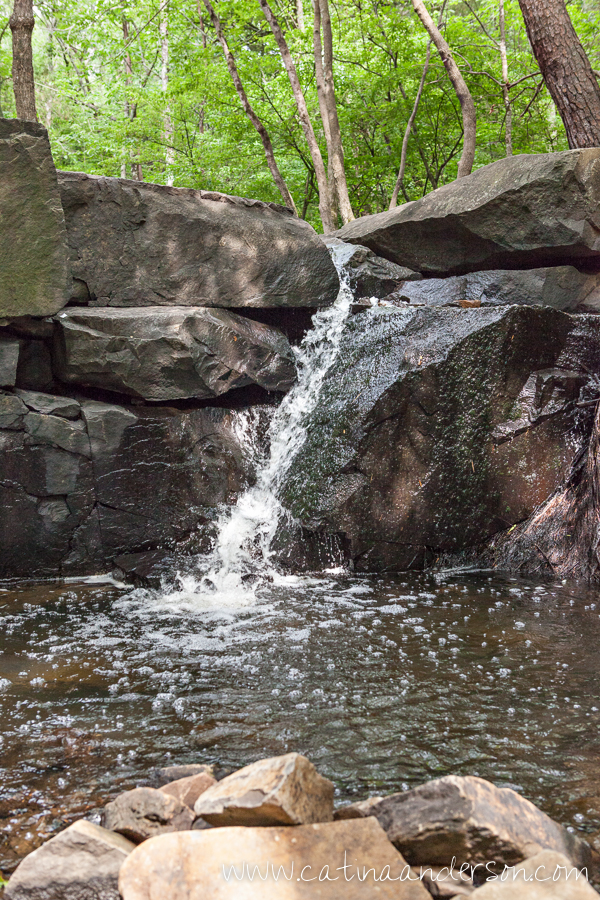 Through more discussion and some helpful brochures we also learned that there is a Junior Naturalist program there.  This turned out to be one of our most exciting family field trips yet!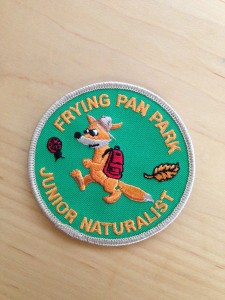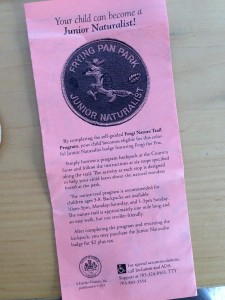 You start by visiting the Country Store where you can check out a backpack that contains instructions and supplies for your nature trail hike.  It had several plastic baggies inside filled with nature identification cards, challenges for the hike, even binoculars.  It's free to check out but it must be returned to the store by 4:30 so I recommend going earlier in the day so you can take a leisurely hike.  We, unfortunately, ended up there at 3:00 (the latest they will check a bag out to you) and had to really push ourselves to complete all the tasks and the hike in such a short time.  The kids would have preferred to linger a little longer at the waterfall but we had to keep moving.  So earlier is better.
It was a little tricky to find the entrance to the nature trail.  I should probably go back and take more pictures to add to this post so that it's a little bit more clear.  Perhaps next time we visit I will do that.  But you start by walking behind the large blue horse arenas.  When you get behind them you'll see a picnic area with large rocks.  Behind that is this horse ring called the "Upper Ring."

To the left of this ring is a dirt service road.  Follow the service road around to the far back of the upper ring (see those trees?  Yep.  All the way back there.) and you'll come to an opening with a sign that says nature trail.  There are a few dirt paths before you reach the nature trail that we looked at and questioned whether those might be it… but rest assured.  It's clearly labeled.  You'll know it when you see it.

Along the Nature trail we were asked to look for lots of fun things.  The brochure indicates that the activities are appropriate for 4 – 8 year olds.  We were there with a 9 year old and two almost-9-year-olds.  They had fun.  Along the trail were numbered marker and each number corresponded to a plastic baggie in our backpack.

There is also a map that explains that the trails and their various offshoots are marked with colored rectangles on the trees along the paths.  This was really helpful as there are several times along the trail when you come to a fork in the path.  The colors combined with the map made it easy to stay on the correct path.  Something I'm grateful for considering we did a "simple" nature trail the week before where we ended up off the path and lost for about 10 – 15 minutes before we found our way again.

The activities at each station ranged from looking for insects to finding evidence of animals in the area to crushing and smelling leaves from a spicebush plant.  Here are some things we discovered along the way.

Animal Tracks in the Mud.

Insects like this Potato Bug (a.k.a. roly poly)

The really great smell of these leaves along with how water on an animal's nose helps intensify the smell.

A "mommy" observation of these leaves showing evidence of a leaf miner insect.

Evidence of Beaver in the Area.
And this observation tricked us a bit.  When the kids saw this clump of orange "fur" by the stream we thought it was some animal fur that got caught on a stick.

Shortly after that we came upon this object which is clearly the same "fur" but clearly not from an animal!  It was surprising how orange it was and how easily we were fooled.  I'm thinking this may be the seed pod from a sycamore tree???  But I'm really not sure.  This was one of those instances where I wish it was a guided tour so we had someone to answer all of our questions.


And of course, the waterfall area.


Do you see those huge rocks on either side of the stream bed?  It was so amazing.  I really, really want to go back with lunches packed and have a picnic alongside the stream sometime this summer.

One thing I will say, though, is if you do plan to picnic there please take your trash home with you.  Unfortunately we saw quite a bit of trash and debris from lunches… there were tons of orange peels someone had just thrown into the stream.  They might be "biodegradable" but they really were not pleasing floating there in the beautiful water.  The other mom I was with suggested that maybe next time we visit we'll do a little community service too and plan to bring a bag to pick up whatever trash we find.
In the end it was a really, really exciting day.  We visited on a day that was really nice (in the low 80s I think).  We did find one tick after leaving the woods so a tick check is a good idea as with any hike.  Sunscreen and bug spray of course… and I tend to prefer long pants on any nature hike because of both ticks and poison ivy… and well briars too.  But I will say that this trail was well maintained so we really didn't run into any areas where we had to worry too much about brush.  The only tricky part was climbing from the path to the stream but it wasn't too difficult because there were a lot of dry rocks to stand on to get across the stream – it just wasn't quite as cleared as the main nature trail.
We can't wait to go back and take "Daddy" and friends and a picnic lunch.  What a great find!  Oh! And then after returning the backpack the patch for completing the trail activities is $2.00.  So – a free hike… or a $2.00 educational hike with patch.  Either way, a terrifically low-cost, enjoyable, and "close-to-everything" day out in nature with the kids!  Well worth the trip!  And if you take a few dollars extra there's also a historic carousel, a country store and a playground to enjoy… ice cream cones and water on the porch of the country store looking out at the kids riding on the carousel after hiking to the waterfall?  Can it get any better?  This one I highly recommend!