Today my husband and I celebrate the anniversary of the day he asked me to be his "girlfriend."  If you have read my "about" page you might have seen that we were high school sweethearts.  We used to pass notes to one another between every class period.  And yes… I have saved every one.  (Bit of a sentimental packrat I suppose…).
When I was in 10th grade and he was in 11th we met each other through band class.  He played Baritone Saxophone and I played Clarinet in the high school musical orchestra pit for "Hello Dolly" that year.  We were also in the indoor colorguard together.  At our school most of the outdoor drumline from marching band joined the winter guard as the rifle line.  Between musical rehearsal and winter guard rehearsal we saw a lot of one another that spring and he was often my ride home from rehearsals.  In April I invited him to my birthday party – a trip to the zoo.  He couldn't attend but that weekend he showed up unannounced at my house and we headed off to the local elementary school with a basketball for a game of HORSE.  Somewhere during the next month a mutual friend convinced him to ask me to prom (though it took a good deal of back and forth because he was just a little bit shy…).  And finally on May 6… just a few days before prom, he asked me out officially.
In a note.
Did I mention he was shy?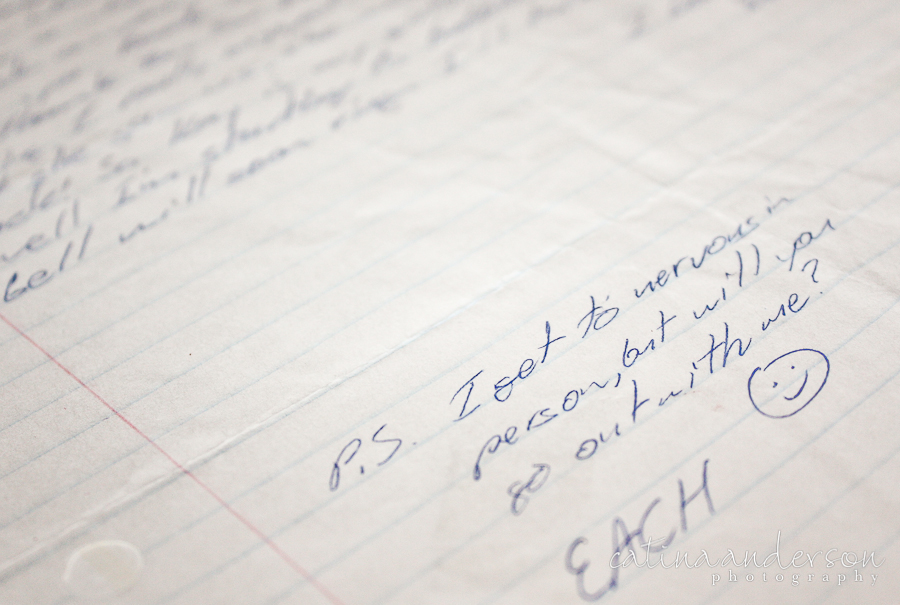 Well I said, "Yes," and 21 years later here we are.  EACH (our initials) has become EACA and our 2 baby girls are almost 8.  I still can't believe I'm old enough for any anniversary to be over 20 years but I feel extremely blessed to have found my love so young in life and to have spent the last 21 years growing together.