Some of you may know that I run a separate blog from this one called Color Guard Educators and that I've had a longtime involvement in the Marching Arts (i.e. marching band and colorguard) as both a performer, a coach and a writer.
Last month in this post (Getting a Little "Artsy") I talked about how I was asked to create a photo for the cover of Halftime Magazine and I shared some of the photos I took during those sessions.
Today my copies of this special edition arrived!!!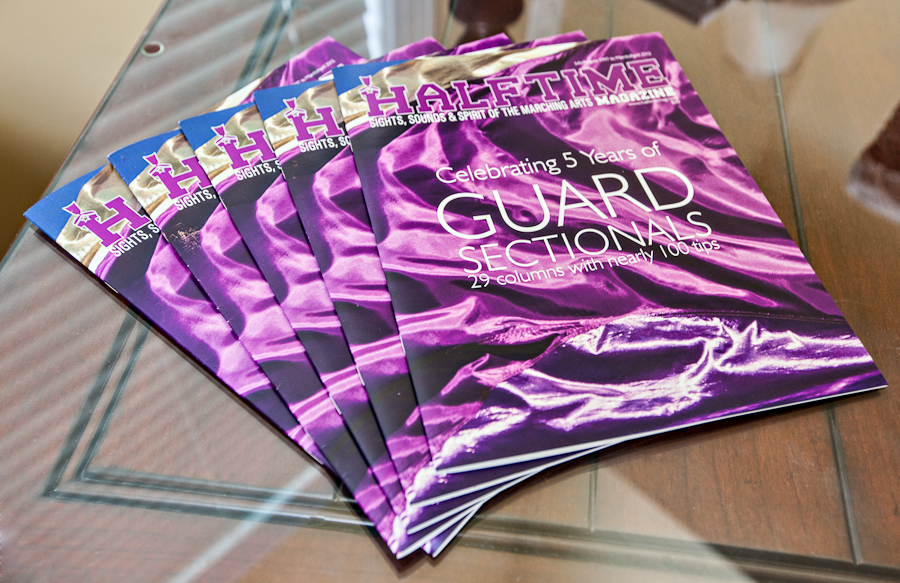 From 2007 – 2010 I wrote a regular technique column for Halftime Magazine.  My friend and fellow Color Guard Educator Chris Casteel (from WGASC) took over the column in 2011.
These technique columns are part of the "sectionals" department and are written for performers.  They feature helpful tips and strategies on a variety of skills and challenges facing new performers.  Some of the titles include:
Engage the Upper Arms (July 2010)
Tossing in the Wild Outdoors (July 2008)
Ready for Rifle  (Nov 2009)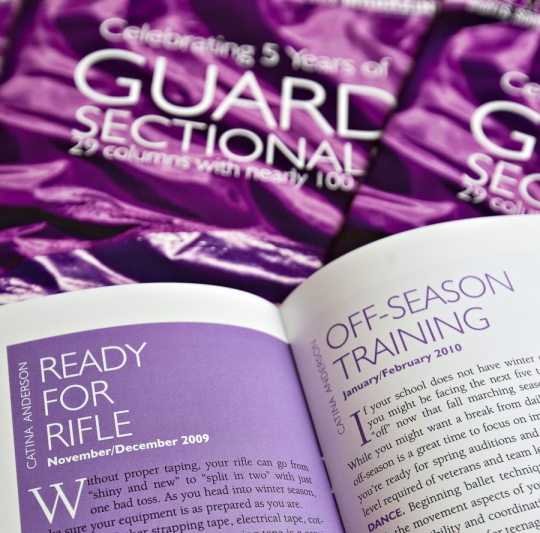 In the Toaster (March 2010)
Team-Building Tips (July 2009)
and
When It's Good to Cheat (January 2009)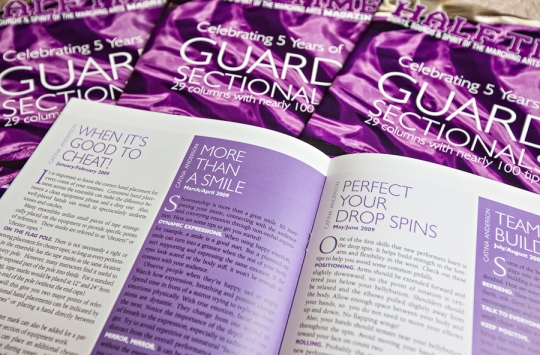 I was thrilled when Halftime Magazine editor, Christine Katzman, announced they would be compiling all the colorguard sectional technique columns from July 2007 to present in this special edition in celebration of the 5th anniversary of Halftime Magazine.
For the photography I went in 3 different directions creatively.  First I attempted intentional blur to show motion using rear-curtain sync and flash as you see in the previously published photos with the black background.  For the photos that were ultimately selected I went for a more natural look of rippling fabric against the blue sky.  The purple and blue combination turned out to be striking and exactly what the editor and designer were hoping for.  I couldn't be happier with how it turned out!

I had so much fun doing this shoot.  I have to give 2 big shout-outs to my friend David Noland who assisted 2 of the photo sessions and to my husband, Erik, who assisted with the sky background session (both got their share of upper arm workouts as I said "again,"  "again," "again," like any good coach does…

.  Ah… and I can't forget Gina Corbin and the Broad Run High School Color Guard for loaning me a beautiful selection of purple silks.
If you know a guard coach or, even better, a color guard performer who might be interested in this special edition please forward them the link.  It is available in both print copy and by digital download and is comprised of 29 columns with nearly 100 tips for color guard and winter guard.
Finally – I just want to say thank you to Christine Katzman – I'm so grateful to Christine for believing in me as an educator and a writer – and for giving me the opportunity to write for her magazine and to do this cover photo.  It's really cool to see four years of work published in this way.  And it's really great to have had all those years of support.  Thanks Christine!