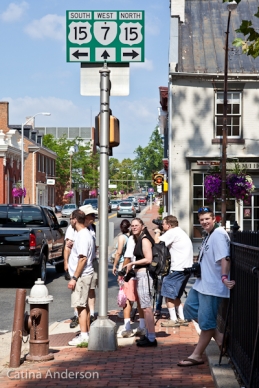 This past Saturday I participated in the Scott Kelby Worldwide Photowalk 2010.  The Worldwide photowalk consists of thousands of photographers across the world who gather in places local to them to explore with their cameras and also meet other local photographers.  I participated in a photowalk in the nearby town of Leesburg, Virginia.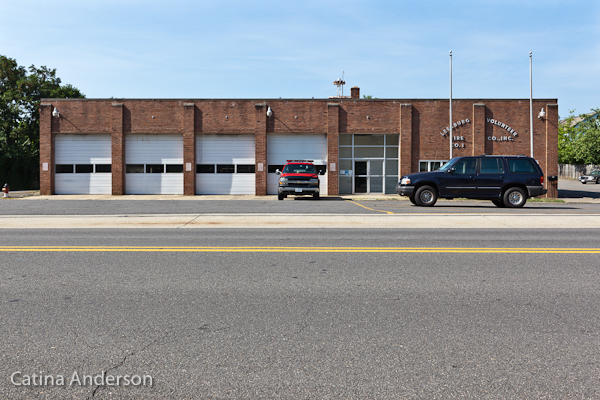 [This motorcyclist was kind enough to let us take his picture... he caught our attention because while the temperatures soared up past 100 he was riding around with a snowman in his passenger seat... we just had to stop and ask him about it.  He told us he had just purchased it at a nearby yard sale.  We loved seeing the reminder of winter on this sweltering morning! ]

I have to say, I was a little bit out of my element walking around with no expressed purpose… or the broad purpose of "Take a photo of whatever you like!"  I've become accustomed over the past few months to having a goal for each photo session whether it be to capture my children's latest activity, to photograph a newborn for it's family, or to photograph a home for a real estate listing.  So when I arrived at 8:45 a.m. to meet a group of total strangers and photograph "whatever I wanted," it took me a while to find my bearings.  Luckily the historic part of Leesburg has plenty of flowers throughout which my friends know are a favorite subject of mine.





Still… I was feeling down even during our lunchtime gathering about the fact that I didn't feel I'd really captured anything that was super interesting to me.  I didn't feel I'd stretched myself or tried anything new.  That's when I remembered having seen a clip on TV about Alphabet Photography.  I'd been wanting to try it but just hadn't taken the time.  Historic downtown Leesburg with all of it's embellishment and old-time charm, I thought, would be a great starting point.  So after lunch when most of the group was dispersing because the temps were stretching towards 100 I decided to take one more short walk and see if I could discover some letters.
The color version of what I came up with is at the top of the page… and here it is again in Black and White.

This was actually really fun… and while I know it was my first try and perhaps a couple of the letters could be clearer (yes… my R kinda looks like an N depending on how your eyes focus) it was a really fun challenge.  It is such a neat exercise in looking at the details of downtown Leesburg – looking at them in a unique way – and creating my own piece of art that I think captures a bit of the beauty and charm of this neat historic town.  Here's where I found the letters: L was part of a wall outside of Fireworks Pizza, the E's on the Leesburg Government Building near the front door, S was a decorative element on a windowsill, B was the door handle on the old log cabin near the Loudoun Museum, U was in a tree outside of Fireworks Pizza, the R in a park bench near the Children's Garden at Loudoun Museum and the G was part of a sign embellishment in front of a store near Tuscarora Mill.
It also reminded me about a really important element of my photographic journey.  Prior to becoming serious about photography I would probably have described myself as a busy person… always going somewhere… always doing something… always too busy to slow down and notice the details.  I didn't even realize that I was missing them.  A few months into my first personal photography project (project 365 – where I took one photo a day for an entire year) I had a revelation.  I noticed that the leaves on the tree next to my home were heart-shaped.
I know this probably seems insignificant… but it was a big moment for me.  I had lived in that house for almost 10 years but I'd never taken the time to really look at the tree and notice the shape of the leaves.  Perhaps if they were any other shape it wouldn't have mattered as much… but I have a thing for hearts.  Even my engagement ring is a heart-shaped diamond.  I love hearts.  And  yet I never slowed down enough to notice the heart-shaped leaves right outside my door.
In that moment I became so grateful for what photography has brought into my life.  I've begun to notice details, light, colors, beauty … that my busier self just overlooked.
Photography has brought beauty into my daily life… beauty that was always there… details that I am so happy I notice now.  I may just have to set out on some alphabet hunts with my kids to help them learn to notice the details too!  This was fun!