Today is a photo share from our recent trip to Harper's Ferry National Historical Park in Harpers Ferry, WV.  We've lived in Purcellville almost 4 years and I can't believe this was our first time venturing out to Harper's Ferry.  It's really very close (only maybe 35 minutes driving) and there is SO much to do as a family.  I imagine this will become a place we visit several times a year from here forward.  The kids have begun the Junior Ranger program and I would love to visit on a cooler day to take time to just enjoy all the photographic opportunities.  I'll be sharing more pictures from our trip over the next couple weeks.
Today I wanted to start with a quick share of three images I took of the very prominent Church that overlooks the historic part of town.  This is St. Peter's Roman Catholic Church in Harpers Ferry, WV.  The sun was directly behind the church so I had fun playing a bit with trying to capture a sunburst through the nearby trees.
The church was closed when we visited but there were signs outside advertising ghost tours!
Here's another view of the church with the sunburst – this time standing much too close to get straight verticals… My real estate photographer friends will just have to suspend the need for straight verticals… I like the shot regardless of the leaning… lol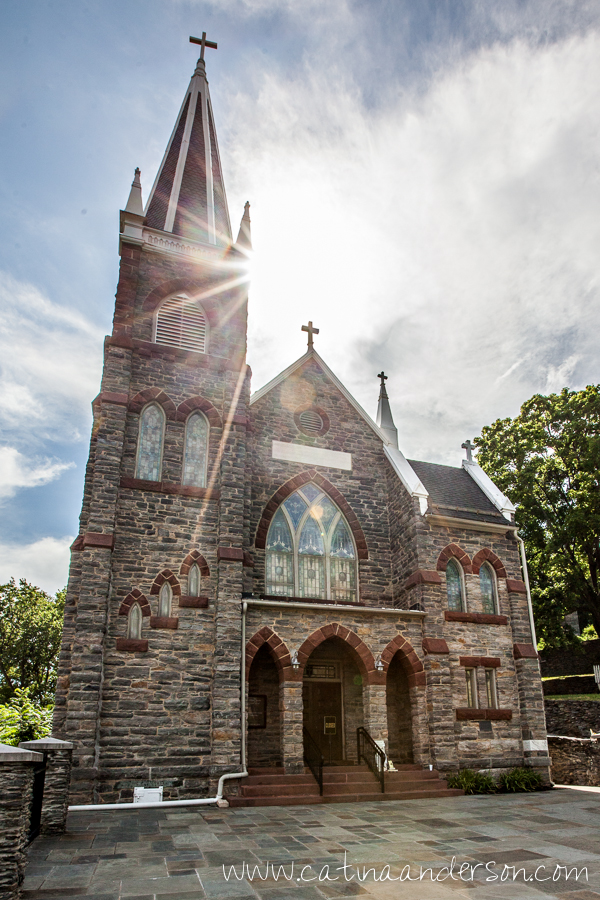 And finally a shot from the stairs leading to Jefferson's Rock – just behind the church.  I love how the trees frame the steeple.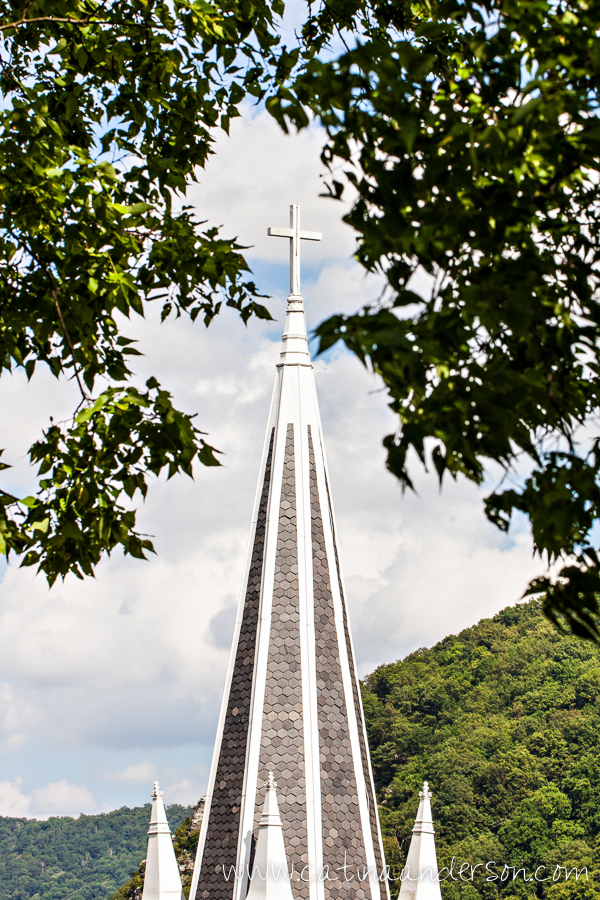 I wanted to get a shot with the whole church but it was just way too crowded and I would have been blocking the stairs if I waited any longer (not to mention the rest of my family was getting a little impatient with my endless snapping away…).  A good reason to go back I suppose!  I just clicked "like" on their facebook page – looks like a TON of great family-friendly, scout-friendly, and just plain photo-friendly opportunities to look forward to!