We had the opportunity to go to Harper's Ferry last summer for the first time and we really enjoyed it!  We went in July so it was super hot – that was not a favorite part of the trip 😉 lol… but the yummy, yummy snow cones we found were!
Heat and snow cones aside, we were so surprised by the beauty and the historical richness Harpers Ferry National Historical Park had to offer.  It wasn't what I expected from a National Park.  Instead of simply a wide open expanse of nature like I've come to expect, this one is a preserved historic town.  Its "museum" is a streetscape from the past with buildings set up as they would have been in the time surrounding the Civil War.  There are interpreters and park rangers throughout.  Many of the interpreters are dressed in period clothing as well.  In addition there are also the breathtaking natural wonders as the Potomac and Shenandoah Rivers meet.  There is a hike up to a lookout where you can see both rivers (and just about everything else for miles).  There are places where the kids can play along the banks of the Shenandoah.  There are also modern day shops and eateries.
I took a lot of pictures on this first trip but we really just barely scraped the surface of what is there.  Lucky to live only 1/2 hour away we plan to make many return visits to continue learning more about this park and this time in history.
Here's one of my favorite pictures from that day of a train tunnel that runs through the side of the mountain.  The kids really liked watching the train disappear into the mountainside… but really… who wouldn't love that?  So cool.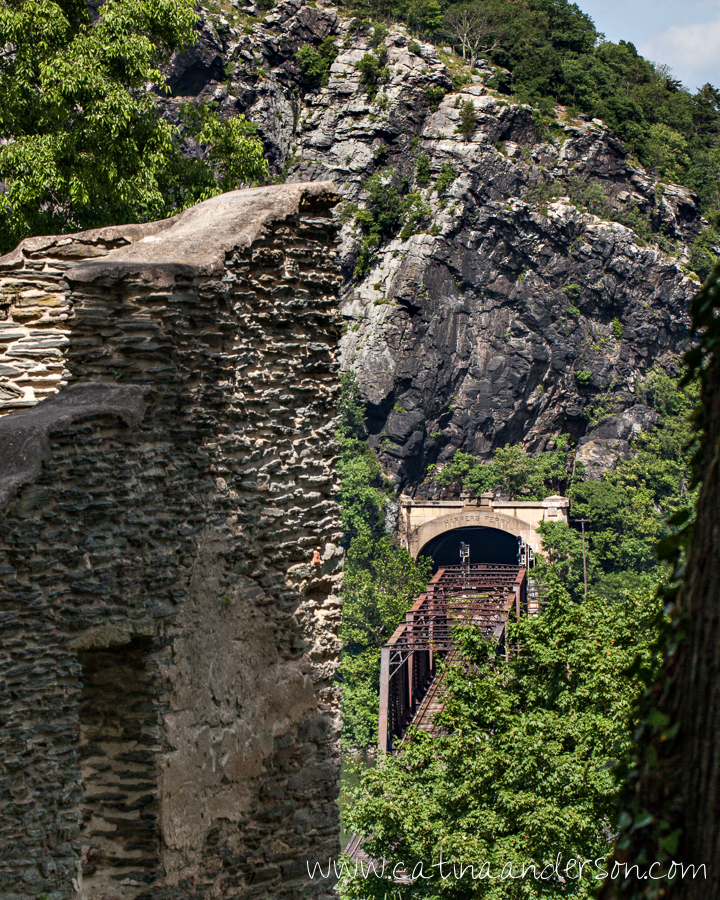 To see a few more pictures from our visit click here where I posted images of an historic church that stands above the town.  I'll share more images in the days to come.