This weekend is the Loudoun County Public Library's giant book sale going on at Smart's Mill Middle School (850 North King Street, Leesburg, VA 20176).
I first heard about this book sale last summer when we went and found some fabulous used audio books that my girls still listen to just about every day in the car.  So when I heard it was back this weekend I knew we had to go in search of more super-inexpensive, educational goodies!
What surprised me the first time we went was how HUGE this sale really is!  The cafeteria and gym are full, wall to wall, with tables of books.  There are also tables and tables of used CDs, Books on Tape, DVDs and VHS tapes.  The entire cafeteria is nothing but children's books.  And there are even some specialty books (at higher prices) including coffee table books, historical volumes and even autographed copies.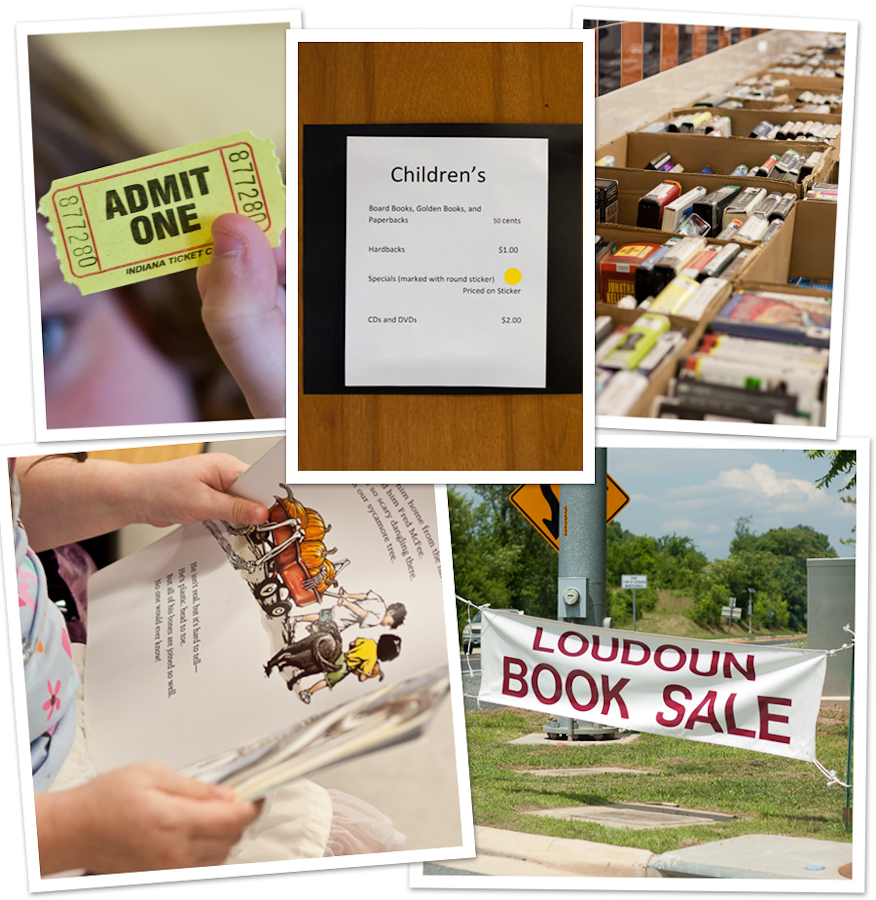 You can see in one of the snaps above that children's books are 50 cents for soft cover and $1.00 for hard cover.  And see that ticket up there?  My girls were absolutely thrilled to discover that kids get a ticket for a free children's book!
A few important things to note:
They take only cash or checks
Bring your own bag or box to carry books in … I didn't do that last year and BOY do those stacks get heavy!
Check any CDs or DVDs you purchase to make sure the scratches don't look too terrible.
there are lots and lots of movie DVDs for both kids and adults.  Those are $2.00 DVD, $1.00 CD
On Sunday they have a bag sale!  Check out their website for details – but a full brown bag of books for $10.00!
This was a great and super-inexpensive outing with my girls.  They couldn't even wait to leave the school before they were reading their picks!   Plus we came home with several kids' DVDs (My Little Pony, Strawberry Shortcake…) and a few new children's audio books for long trips… all for under $20.00.  In reality – even if I didn't want to spend anything the girls would have been happy with their free-book tickets.  Did you go to the sale?  What treasures did you find?  Please share your finds and your tips for others in the comments below!