We just returned home from an AMAZING weekend in New York City celebrating our twin daughters' 7th birthday.  We've been to NYC several times in the past year but we keep finding new places to visit and explore.  New York City has SO many kid-friendly attractions.  Since our first visit to Central Park in May 2010 it has become our "must-go-to" spot whenever we visit NYC – it's my husband's favorite part of the city (for me it's 2nd to being inside the theatre!).
When we asked the girls if they'd like to have a birthday party at home or go to NYC for the weekend, NYC won out hands-down because of the giant rocks you see right at the bottom edge of the photo.  I will have to find a photo looking back at the rocks so you can see how truly massive they are… they really are pretty cool and they overlook this huge playground.  All they wanted to do was climb on the giant rocks!  Of course, we found a whole lot more to do and I'm going to be busy going through lots and lots of fun pictures over the next few days to put together a photobook for them.
This was our very first time visiting the playground at Central Park.  They loved the area you see in the foreground – with water spraying and splashing…  We arrived around 6 p.m. or so on Saturday so the sun was low and the light was beautiful.  We couldn't have had better weather with temperatures in the 70s and 80s all weekend.  It was just perfect.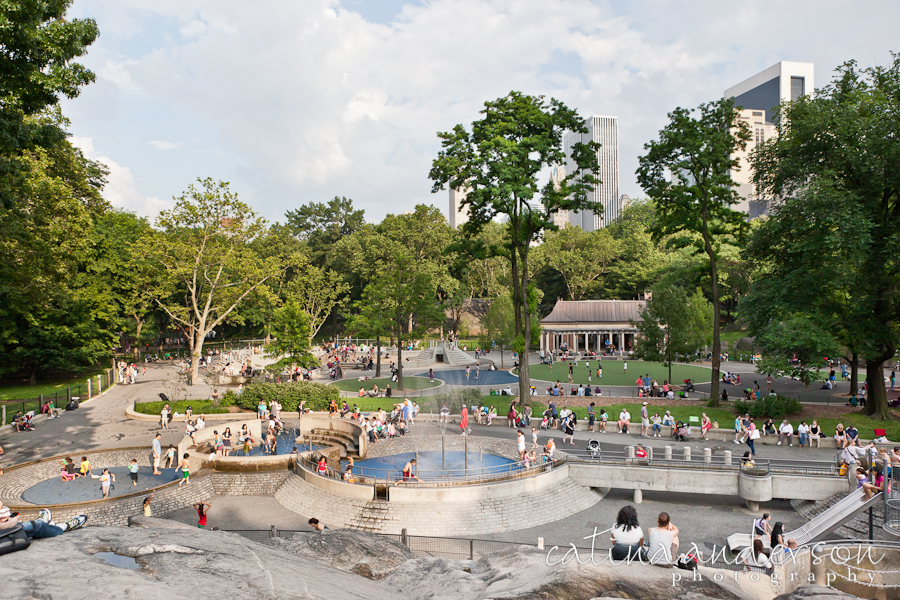 Anyway – just one quick share so far.  Back to sorting and processing and reliving all the wonderful memories from the weekend.  And if you have a trip planned to NYC with kids (or if you're looking for a fun weekend or long day-trip) definitely make sure to put Central Park on your list!