Today I wanted to share one of my favorite summertime spots to take my own children.  I can't even believe we are lucky enough to have a place like this to visit here in Loudoun and for FREE!
The Lansdowne Town Center is a busy little shopping center right off rt. 7 between Ashburn and Leesburg.  In the heart of this shopping center you'll hear squeals of delight from scores of children, throughout the summer, as they play in this amazing water feature.  A large open space with fountains spraying up from the ground… surrounded by a wonderful sitting wall, a large "town green" and opposite a pergola-covered stage where the town center hosts Wednesday evening concerts throughout the summer (2010).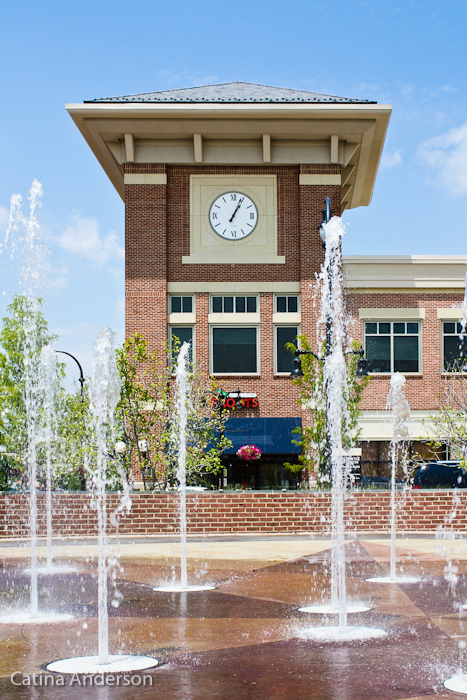 I realize this is not a "professional-quality" picture – instead just a quick snapshot I took last summer while my kids played in the fountains.  It was the only picture I had with no children running through!  I keep thinking one of these days I'll get over there to snap some great photos of this fantastic community attraction to post here – but so far there hasn't been a time when it's not teeming with happy little faces running through the water.  So this snapshot will have to suffice to "wet" your appetite and hopefully encourage you to take a look for yourself if you haven't already been there.  We spent this afternoon there and my kids were so happy!  (And I'm betting they will sleep well tonight!).
It's free, it's clean, it's loads of fun.  And it's surrounded by great lunchtime stops including a Subway and a Starbucks!  So pack a lunch or visit one of the surrounding eateries and make it an afternoon.  Deck shoes are recommended as the concrete can be a bit slippery – but plenty of little ones run barefoot too.  Bathing suits, towels and sunscreen are a must – the kids will get soaked!  Many moms bring along their own shade (like a large umbrella to sit beneath) and something to sit on (as the concrete wall can get pretty hot!).
And definitely bring your camera!  You won't want to miss all those beautiful, happy smiles!