Quick post of today's project-in-progress.  We're working our way through the rest of our free-cycled craft room chairs.  Here's a before/after side-by-side (iPhone pic).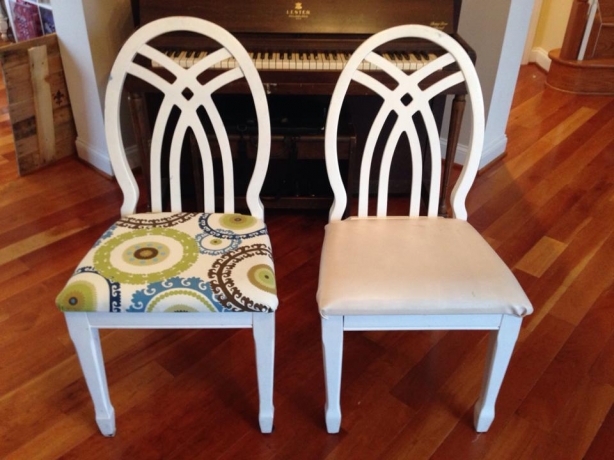 I love that the backs of the chairs won't all match (these don't match the one we did the other day) but the cushions will tie them together throughout the room.  These chairs were in worse shape than the others so they're also getting some well-placed Gorilla Glue to make sure they stay strong.
Did I mention how I was teaching a friend to crochet recently and my chair literally collapsed with me sitting in it????  NOT a good thing for a girl's ego!  lol…
Funny thing was that it WASN'T a free cycled chair that broke… it was one of my newer chairs from IKEA.  It wasn't until later that my husband explained that he had accidentally cracked it a few weeks before but thought it was okay still to sit in.  Well… apparently NOT!  lol – Pshew… glad it wasn't all my fault!  Still was pretty embarrassing!  
Yay for Gorilla Glue!