It's Wednesday which is supposed to be a more personal post (although I know I missed yesterday's post… so I owe a real estate post as well if I'm following my own self-imposed schedule for blogging).
For today it's actually a picture-share.  I looked out my bathroom window this morning and saw this beautiful, majestic Hawk sitting on a tree branch in my back yard.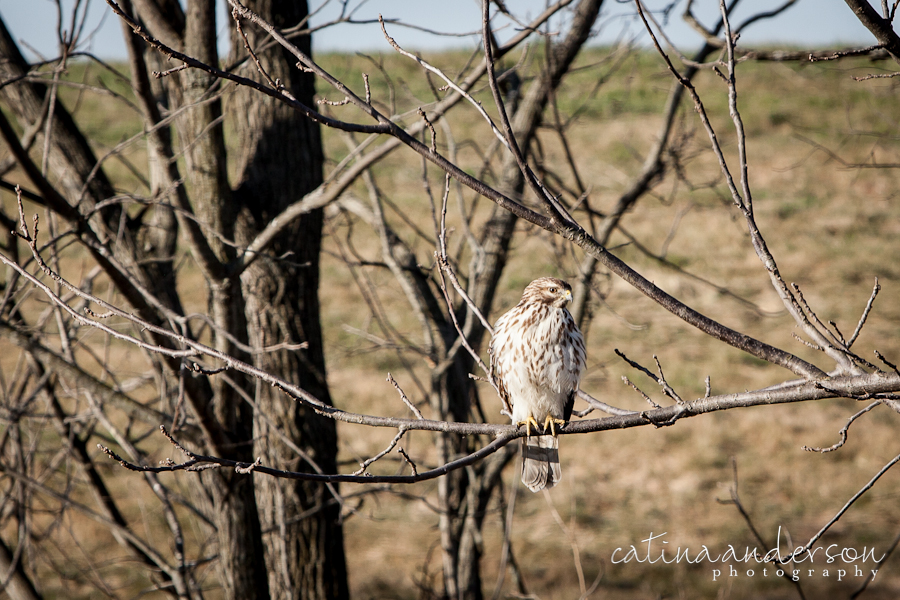 Of course, as any self-respecting photography type would I frantically ran downstairs in my PJs, scrambled to find my longest lens and clear the memory card that was still sitting on my desk from yesterday, grab the piano bench and stealthily climb onto it in the hopes of shooting through the upper non-screened part of my dining room window without startling him.
Yeah…
I pretty much expected him to be gone when I got to the dining room.
But he was still there.  I quickly snapped one shot and then "chimped" (looked down at the back of my camera to check exposure).  When I looked back up he was gone.  But I got it. And I think it was awfully nice of him to let me take at least one.  Pretty sure zooming in on this shot that he saw me… his eye seems to be looking right at the camera.
And THIS is part of why I love where I live SO much.  Purcellville is wonderful in that we have the beauty and nature of the country while being so very close to all of the larger suburbs with their shopping and convenience.  I love that I can look up at the stars which literally make me gasp sometimes because they are so very clear and plentiful… and that on any given day we have some type of visitor to our yard.  It's just wonderful.