I am posting this one today with iPhone pics because I wanted to get it out there quick for any crochet moms who are looking for some easy back-to-school inspiration (school around here starts in the morning).
Last year I started a little tradition of leaving something small and crochet for my kids in their lunchbox each week.  It started out with apple cozies for the first semester.  Fun… but now my kids are sick of apples and we have way more cozies than we want ;).  Last spring I worked on mini-monsters for a few months.
So, last night I was trying to come up with an idea to start this year off.  We had been thinking that a joke each day would be fun to send to school so lunchbox notes are likely.  Then it hit me… why not embellish the first-day-of-school lunchbox note with a little touch of mom?  So I got out my card stock, hole punch and some old yarn and got to work.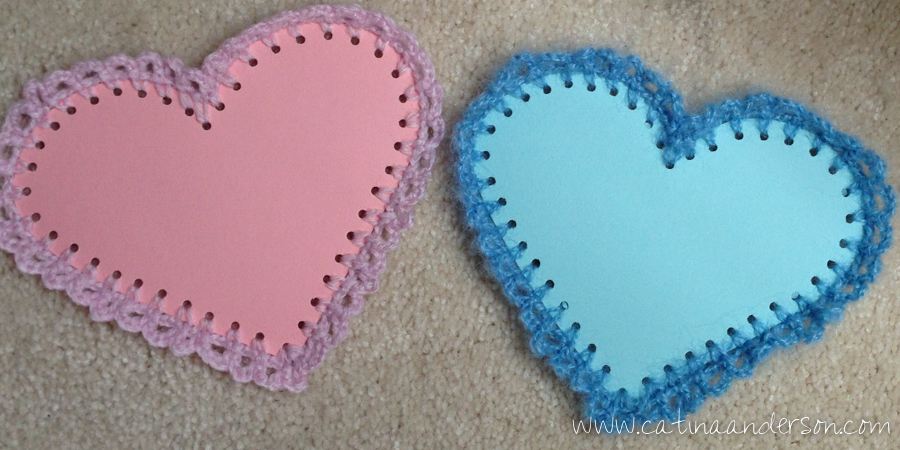 I started by cutting a heart out of card stock.  Then, using a 1/4 inch hole punch, I punched a border around the edges making sure not to get too close to the edge so the paper wouldn't tear.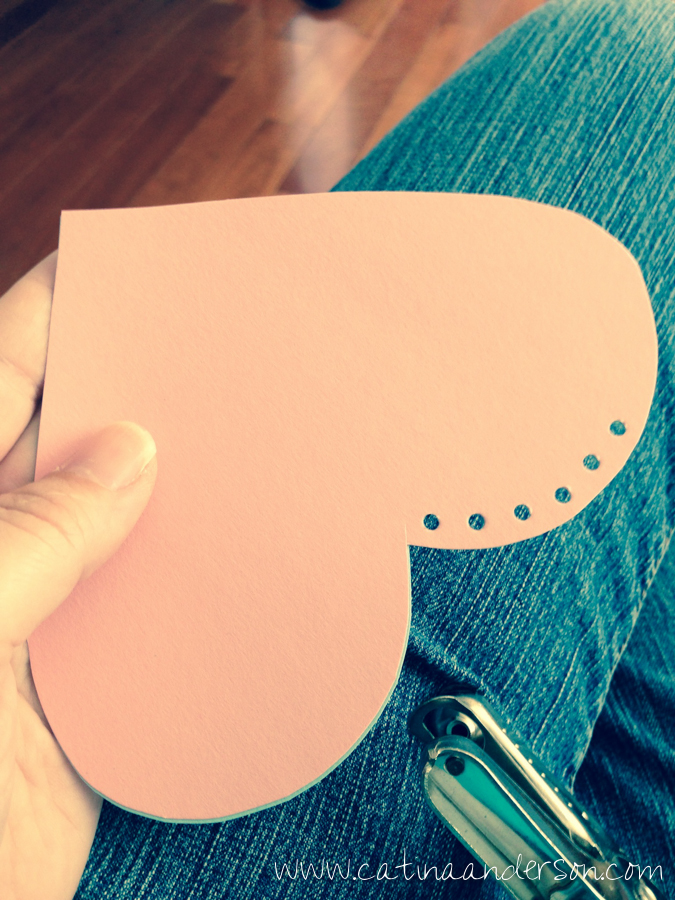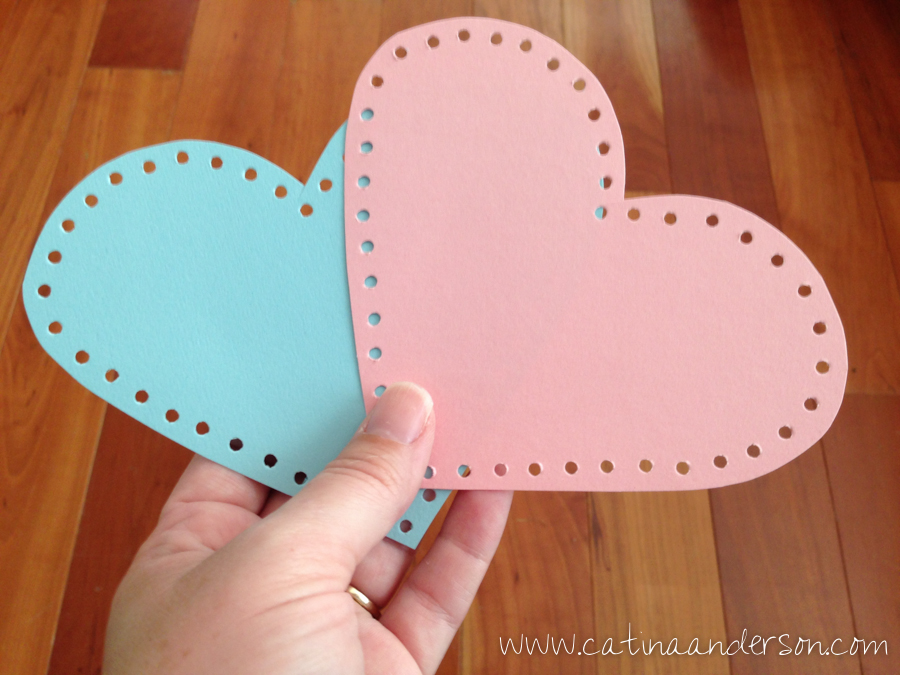 Using a number 5 hook and some yarn I had in my stash, I got to work.  I attached the yarn with a slip stitch in the hole at the bottom point of the heart.  Then I did one single crochet in that same hole.  I worked chain stitches to span the gap between holes and worked a sc in each hole around the entire card.  Note… I wasn't too particular.  I didn't take the time to measure or evenly space the holes… I simply "eyeballed it" which means that some of the holes were closer together than others.  SO… in this first round of the border I varied the number of chains between holes depending on how far apart they were.  If the holes were close together they might only need one chain between sc.  If they were farther apart they got two or three.  I just tried to make sure that the chains were tight between the holes so that they laid flat against the edge of the card stock.

After working sc and chain stitches around the entire edge of the card stock I joined with a slip stitch to the first sc.  Then I chained 4 and worked a single crochet in next sc.  I repeated this around (ch 4, sc in next sc) to create the loops of the edging.  I did skip the sc that is in the deep V in the top of the heart.  I worked around the entire edge and then finished off and weaved in the ends.  Done!  Less than 15 minutes and it only took a tiny amount of yarn.
One of the yarns I used was this Spinnerin Kitten Soft Mohair/Acrylic blend.  It's quite thin and I just don't normally crochet with thin yarn so it's been sitting in my stash for a few years since it was given to me.

…and here's the label for the pink yarn.  A little thicker than the blue but not much.  And I had to giggle when it had a price tag of $0.79 for the skein.  Haven't seen those prices lately!


These would be great for a fun lunchbox surprise on a special day (first day of school, birthday, etc) or to make a bunch for class valentines!  If your kiddos are old enough they might even be able to help with the holes or even crochet the border themselves for a set of handmade valentines.  You can use this same idea with any shape card and use it with larger holes and hooks for littler hands to help.  I can't wait to see what they think!