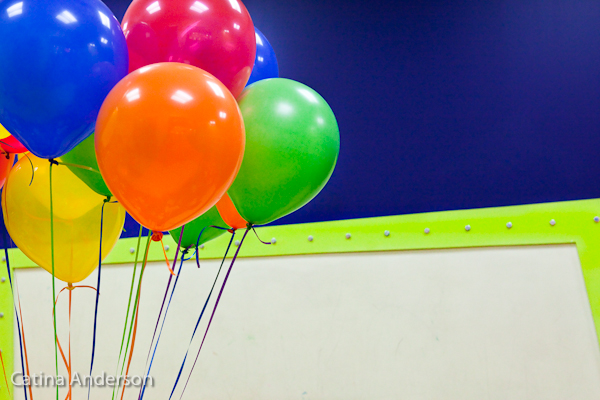 [Note* This article was originally published on my former photo blog Tuesday, February 2, 2010.  Two weeks ago we had the great pleasure of visiting this fantastic birthday venue once again – this time for our twins' 6-year old birthday.  It was just as "ScienTerrific" this time around as the first time so I wanted to make sure all the readers of this new blog knew about this great option for an educational birthday party.   So, I moved the article over here!  Thanks Curiosity Zone for a great birthday experience!]
[2/2/2010] Last weekend we attended a birthday party for playgroup friends of ours and I wanted to share some pictures and thoughts on this unique and educational birthday party setting.
We've been to parties all over – from farm museums to homes to bounce-houses (lots…and lots… of bounce houses…lol…).  And don't get me wrong, I LOVE the bounce houses!  We even had our daughters' fourth birthday party at a fantastic local bounce house.  It's great exercise for kids and parents alike.  But as a former science teacher I was really thrilled with what we experienced at this birthday party and I think it's so unique that I wanted to share my reflections on the day.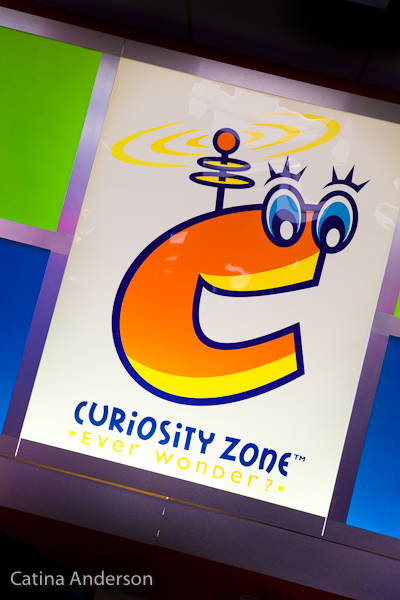 It was at an educational toy store/camp/class/party venue called Curiosity Zone in Ashburn, Virginia.  Our friends signed up for their "Slime Time" Birthday Party for their five-year-olds.  Here's the class description according to their website (accessed February 2, 2010):
"Kids mix up their own formulas for slime, play "floam" and bouncy balls!  Kids take home their concoctions plus a helium balloon and C-Zone science kit (beaker, test tube, pipette and directions)"
And that's exactly what they did!  It starts off with all the kids putting on adorable little science lab coats.  The teacher worked them through three different science experiments.  The first involved making their own bouncy ball using just water, colored glue and borax.  The teacher was engaging and the kids were enthralled.  They got to choose their own color for their bouncy ball (which was done in a really organized and fun way – having special hand signals for each color – my kids chose blue so both waited patiently with their hands on top of their heads until the blue glue came past their seat).
Of course, it didn't take long with a room full of 4 and 5 year olds for parents to get involved.  Some of the kids were more than happy to stick their hands in all the gooey mess while others (mine included) wanted mom and dad's help with the gross stuff!  Fun for kids and parents too!
After making the bouncy balls the room was split into two groups.  One group made "flubber blubber," – a kind of slime – while the other played with something called "ew-blech."  My apologies if that's not spelled correctly… but it sounds like exactly what you would say when you touch it, "EWWWWW!  BLECH!!!"  It was a strange green substance that my husband said felt rubbery when you picked it up but them immediately melted into slime in your hands.  Both groups then switched so that each child got to experience each station.  And, of course, there was plenty of hand-washing going on in between!

After all the slimy fun was over we headed to the party room for cake and ice cream – but probably one of the things I was most impressed with was the learning didn't stop when the eating started.  They thought of creative ways to introduce scientific skills even during snack time.  When the kids sat down, each seat was set with a straw, spoon, cup, beaker of water and a tray of test tubes.

Using their scientific tools the kids were asked to pour their water from their beaker into their powder and mix it with their straw (making their lemonade).  Then they were asked to choose a colored test tube to add to their drink and watch what happened as the colors mixed with the yellow lemonade.

It was such a simple idea… but honestly – this science-teacher turned mom hadn't thought of it before!  I think it's so easy to take these everyday activities for granted – but kids are learning the basic skills of science, even when they help make lemonade.  They were learning the vocabulary and basic tools of science (beakers and test tubes and all), having the fun of mixing it themselves, and learning about color mixing too.  They could have just handed out juice boxes, but seriously… What would have been the fun in that??  So simple – yet so great!
After the singing, and cake, ice cream and socializing, there was a cool "shadow wall" demonstration with glow-in-the-dark paint and then each child left with a balloon, their bouncy ball and a sample baggie of flubber blubber (along with strict instructions NOT to put it on mom and dad's good furniture!), as well as their own beaker, test tube and pipette.
But more than that, they left with an excitement for science.  My five-year-old girls talked all the way home about the party and asked immediately if I would look on the computer for more experiments for them to do.  We even purchased a beginner science kit a few days later at a local bookstore and probably this afternoon we'll start growing our first batch of rainbow crystals.
After we got home that night, my husband told me that one of our daughters came running up to him during the party and said, "Daddy!!  I FINALLY KNOW what I want to BE when I grow up!  A SCIENTIST!!"  It's so neat to see them so excited and engaged in learning.  Of course, this was the same child that refused to touch the ooey-gooey rubber ball and made awful faces during ew-blech time… so we shall see…  But, she did beg and beg on Monday morning to take her flubber blubber to school to show her teacher.
What a great experience we had.  And this is one party that I will remember for years to come!