Those were the words my dad said as we all sat around the picnic table on Sunday enjoying family time together and celebrating the start of summer.
As everyone gasped and looked towards the tree I bolted towards the back door.  "Oh!!!  I've got to get my camera!!!"  (of course…).
By the time I had gotten back outside all I could see was the head and the tail sticking out of a hole in the tree.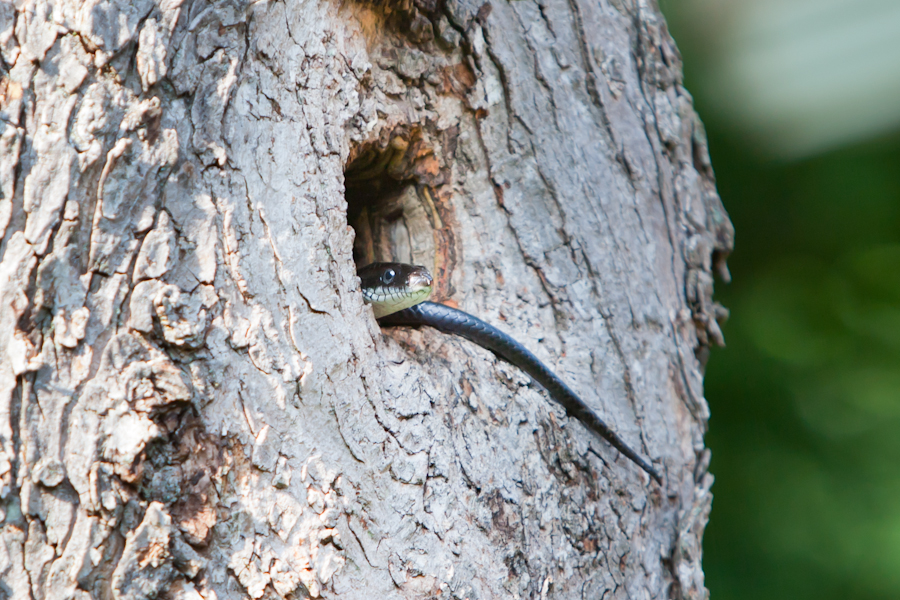 This is a super close crop because, well… my lens wouldn't get any closer and the tree was surrounded by tall ivy – with one snake in the tree I wasn't about to head through the tall ivy in my sandals to get any closer.  So cropping in with software will have to do.
Still – we all found it quite hysterical that Grandpa's "Old Man in the Tree" suddenly had a tongue… lol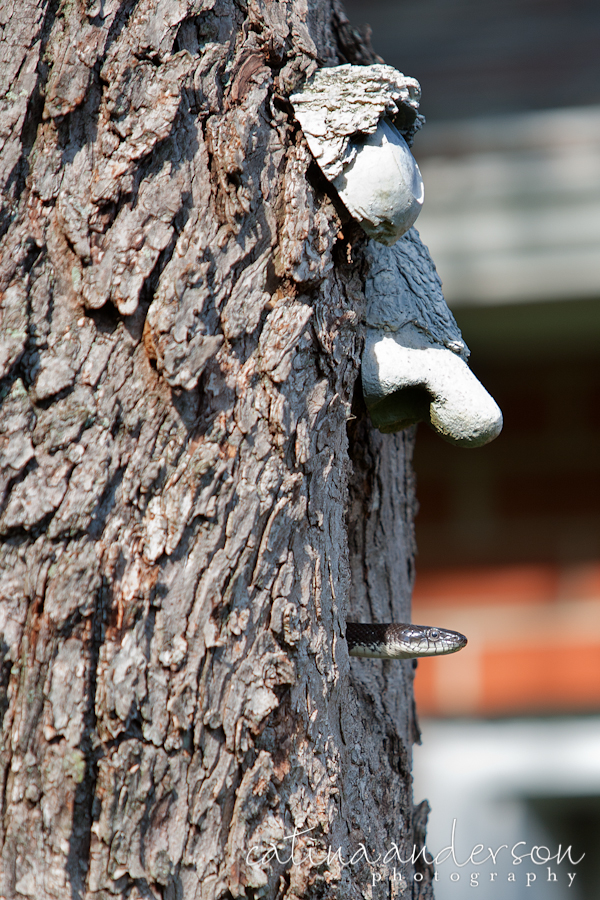 These are moments that I'm so grateful that I carry my camera with me most places I go.  These unexpected encounters with wildlife make me happy – they are moments I can share with my children – teachable moments.
In education classes the "teachable moment" is what we were trained to seek – to recognize… those unplanned, unexpected things that happen which grab the students' interest and make what they're learning in the book "real."  Those moments that will stay with them much longer than anything we can plan.  These are the moments I start screaming for my kids "Come look!  Come look!!"  It brings me joy to observe these wonders together with them.
We took a look at the snake in the tree – I let them see that I thought it was cool (not scary – well… at least not at that distance…lol), they learned that snakes climb trees…  and they went back to the pool.
However, every one of us at the picnic was surprised by what happened next.  We waited patiently for the snake to come back out of his hole so I could get a picture of him in total.  I do have to say that this next picture does "gross me out" just a little… even this former biology teacher thinks there's something just gross about a snake slithering out of a mouth… even if the mouth is just a hole in the tree.  So skip the next picture if you're squeamish…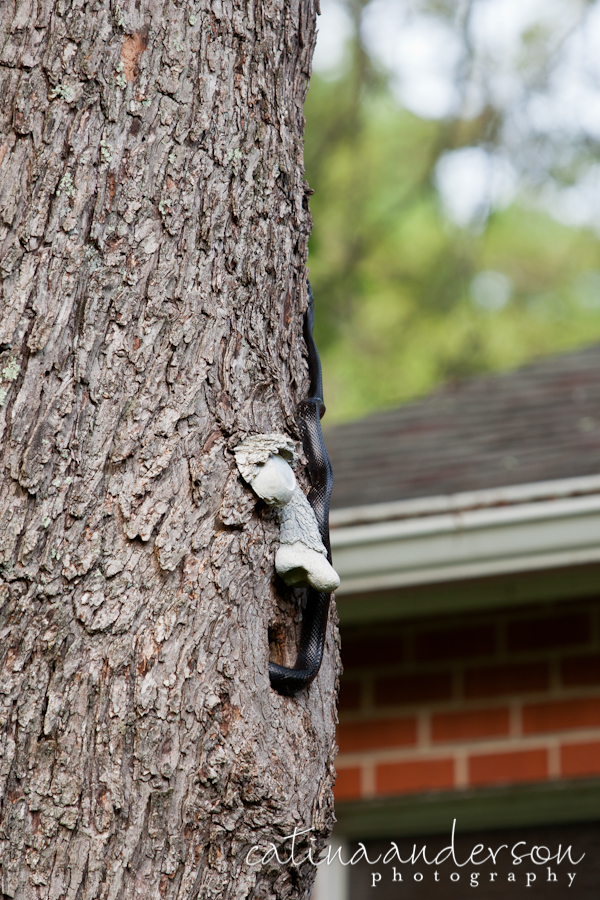 And here he is in total – he looked tiny with just his head and tail peeking out – but he really was quite a large snake…

As I ran around to the backside of the tree to photograph his climb something unexpected happened – we began to hear screeching and within seconds 3 bluejays descended on the tree.  They were flying at the snake – screaming and screeching as loudly as they could… getting within inches of him as he made his way up the tree.  It was amazing to see them working together to protect and defend – and to see how brave they were in the face of this predator.  I was so engrossed in what was happening that I didn't adjust my camera settings quite right so the photos I got were not technically perfect… maybe not even technically "good" by any standard… but they captured a moment for me that I will never forget – a moment that was exciting – a moment where I observed something really amazing in our natural world.  So, technically correct or not, I treasure the image.  And I share it here because I think it's important to remember that regardless of skill or technique or equipment – if a photo means something to you – if it captures a memory or embodies an emotion… it is a GOOD photo.  Never doubt that.
One of my facebook friends commented "Don't Mess with Mama" and I think that's the perfect title for this one.

I had to crop in close, it's blurry, it's grainy… but it was SUCH a cool moment that it means a lot to me.  So I'm keepin' it.
Though I do have to admit that I wish I'd had enough presence of mind at that moment to switch over to video mode… it was SO loud you wouldn't believe it!
Shortly thereafter the snake disappeared into the fork of the tree – we're guessing there must have been another hole up there.  We watched for quite a while – the bluejays calmed and went away – and we never saw the snake again.  But I am so glad I had my camera with me – that I can show my girls the pictures again later this week and we can talk about what we saw.  They missed the part with the Bluejay so I can show them this image and we can talk about predators and prey and the way the birds worked together to defend what was probably a nest somewhere up there.  These images can spur more exploration and learning (which we will have plenty of time for as summer is approaching quickly!).  And, technically correct or not – they capture a moment – bring back emotions… So I'm happy to have them.
I think it's easy to get wrapped up in wanting a perfect photo once you start to learn some of the basics of photography – or to believe that others always have perfect photos… but sometimes even an imperfect photo is well worth keeping.
(… says this struggling perfectionist who has to remind herself of these things every. single. day.).