I couldn't decide what to share today…
I've been thinking for some time that I'd like to share more than just highlights from sessions or photography-related posts.  I mean really, when you hire a photographer, a big part of the decision is whether or not you feel like you might connect with that person and feel comfortable working with them.  So maybe it would be nice for potential clients to learn a little more about me, as a person.
Of course, you might not need to know about me as a person to know whether I'm capable of photographing your next real estate listing…which is why I've gone back and forth on whether or not it's appropriate to share more casual or non-photography related posts here.
In the end I think I just like to share (which is the first thing you're learning here today… when you meet me – I'm a talker.  Meeting and talking to agents and homeowners is one of my favorite parts of this job).
…besides the blog might be boring if it's just the latest photo of the day from my latest session. Beyond technical abilities – any working relationship is nicer when you know a little bit about the person you're working with.
So from time to time you'll get "me" here on the blog.
Messy. busy. fun. indecisive. creative. crafty. teacher. mom. photographer.
Lately, I've been incredibly inspired by the creativity I see all over that addictive new platform known as "Pinterest."  Have you found it yet?  It's awesome, and amazing, and addicting, and time-sucking… all at the same time.  But I do love it.  It makes it so easy to find inspiring designs and ideas you would probably not find otherwise.
Between Pinterest and my time spent in beautiful homes I am incredibly inspired to upgrade my own home, do creative activities with my children and organize my life.  I'm becoming somewhat of a "weekend warrior" (when I can carve out time) trying to think of some way to improve our own space each weekend – whether that's through a home improvement project or some new routine or organizational strategy.
The first, and easiest project we've done is to organize the "hair pretties" that were spilling out of our bathroom vanity drawer.  As trivial as it may seem it was a real problem for us.  They were all over the place, being stepped on, the drawer wouldn't close – and most of all when the girls wanted one they could never seem to find the 2 matching barrettes without a huge struggle and good deal of frustration.
Then one night on Pinterest I found my way to the "My Magic Mom: Finding magical moments in everyday life" blog and DIY instruction set "Hair Bow Holder Instructions."  I knew I'd found the solution to our problem.
BUT…
Good intentions being what they are… trying to grow a photography business doesn't leave a lot of extra time for crafting.
That's when I remembered I had one of those french memo boards in the basement – brand new and completely  not being used.  So I got to work organizing our hair pretties by color.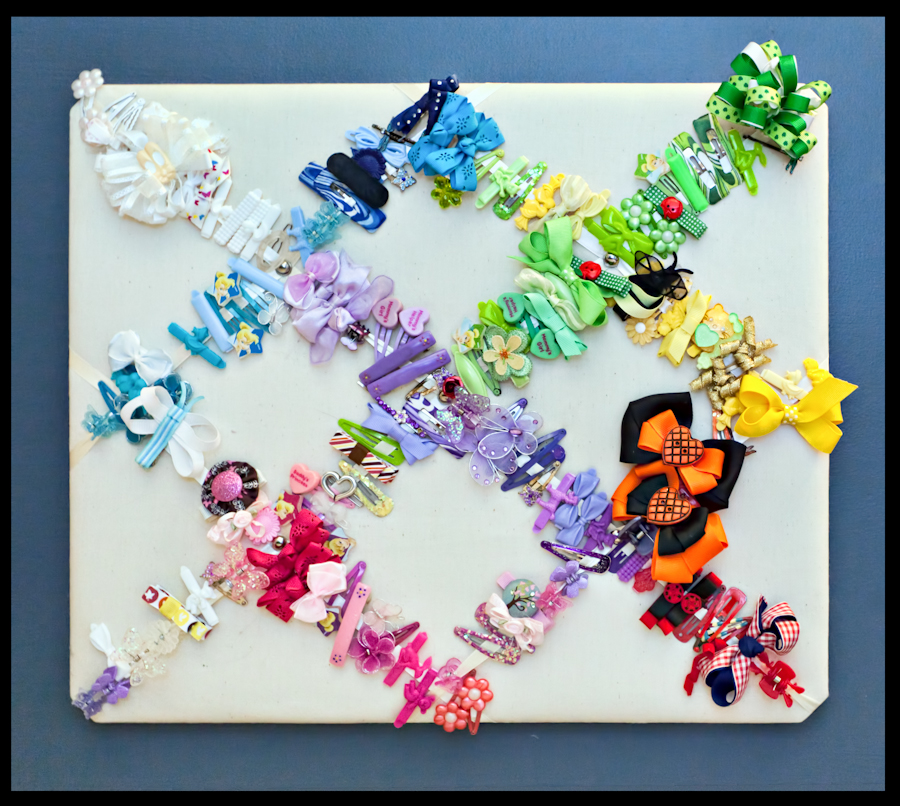 Now this rainbow of hair pretties is hanging neatly above the toilet in the girls' bathroom.  Against their dark blue wall it is pretty – the perfect accent and organization solution all at once.  And it cost me nothing because we used what we had around the house.
So that was my first organization project of the year.  Not earth-shattering… but every little detail helps make our lives a little more streamlined and a little less stressed.  That's always a good thing!
Hmm… maybe I should call this "Weekend-Warrior Wednesdays."  It has a ring to it don't you think?  I'm not sure I can maintain the momentum of a project every week… but it's an idea!
What do you think?