Welcome to our Project 52: "Focus" on Kindness Start Page!  
Hopefully this page will explain everything you need to know to get started with your own Project 52 "Focus" on Kindness Journey!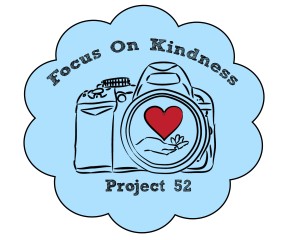 1.  How did the project get started?
Here's a longish post with the whole story if you're interested in what inspired me to start this version of Project 52.  But basically I was looking for a way to be intentional as a mom in teaching my children about the value of kindness and service.  I wanted to make sure that we were actively discussing the importance of kindness and actively engaged in doing acts of kindness and/or service every week.  I want to make sure that my children grow to "feel empowered through giving amidst a world that can all too often leave us feeling powerless," and that they will grow "to own the understanding that we, as individuals, can all make a difference."  I believe in kindness and service in my core.  I believe that we have a responsibility to spread kindness with whatever talents we possess.  And I believe that in teaching our children these values we should actively engage them in these experiences and lessons just as we do in mathematics, reading, science and social studies.
2.  What is Project 52?
Project 52 is a photography project that has been around for a long time.  Essentially there are 2 major projects many photography enthusiasts engage in.  One is a Project 365 where you take a photo a day for a year.  The other is a Project 52 where you aim for one image a week for a year – usually in response to a theme or prompt presented by a group organizer.
3.  What if I don't have children?
This project is open to everyone!  I started it with my own children in mind as a family project for us so I will personally post a lot about family-friendly service ideas and age-appropriate ideas for families with grade-school aged children.  But don't let that scare you away if you don't have children or if your kids are really young and you're doing this on your own or with your spouse.  This project is for everyone.  You can follow the prompts and change the world right along with us!  And I'd love to have you guest post with ideas that are great for grown-ups!  Or link up to your own blog!
4.  What if I'm not a Photographer?
The important part of this project is the doing.  The giving.
I encourage you to capture these memories with your family in some way.  That can be through fancy photography if you are a photographer.  It can be with your iphone or instagram.  Or – throw the camera out the window and keep a journal if that suits you better!  If you're doing this with kids you might work with them to make a scrapbook of the year with a combination of photos and other memories (receipts, brochures, scraps of whatever you like gathered during your projects).  Capturing the memories in some way will help you and your family to look back at the year and see the big picture.  Capturing photos will also enable you to share great ideas from time to time which will inspire and enable other families to participate in kindness or service projects more easily.  For many people it's not that they don't have time – but they don't know what to do.  Your photos or journaling shared with others just might spark even more kindness to spread in the world!
5.  Do I have to "go public?"
Absolutely not.  This is your project and you can be as public or as private as you like.  I won't be posting every single picture I take.  The idea is to capture memories for your own family.  You can keep them completely private.  You can go completely public and blog.  You can find a happy medium and share in a limited album on FB.  Whatever feels most "right" to you is completely okay.  I have decided that I will share when I feel like the photo might inspire someone else or inform someone else about something they can do in their own project.  But some acts of kindness are more personal and more private.  Those will be kept private.  It's your project and you can do what your heart feels is right.
6.  What do we do?
Every week we will post a Kindness "Word of the Week" in a blog post on Mondays.  We will also keep track of those words on this static page for reference throughout the year.
Then you try to come up with an act of service or kindness inspired by that week's "word."
Be as creative or as literal as you like.  We will try to choose words that leave some room for interpretation because it will be fun to see how everyone approaches the challenge!
So – for instance – if the word of the week is "Water" you would brainstorm an act of kindness that might be related in some way.  Perhaps you would use water to wash a friend's car… or donate money to an organization that provides clean water to families… or hand out bottles of water on a super hot day… or do an act of kindness for your swim team coach.   See!  As creative as you want to be.  The more creative you get the more amazing kindness ideas we put out into the world to inspire others!
I think this weekly prompt will help keep things interesting (especially for those people working with kids) and will challenge us to go beyond our experiences to come up with new and creative ways to spread joy.
7.  What if my act of kindness idea doesn't fit the word of the week?
No worries!  Skip the word that week.  Do the act of kindness your heart calls you to do.  And rejoice in making the world a happier, kinder place!
8.  What if I'm starting late in the year?
That's okay!  It's never too late to start spreading kindness!  You can join in with us at the week we're at and follow along with the group.  Then at the end of the year you can either stop the project with everyone else or complete your year by cycling through the weeks you missed at the beginning of 2014.  If you're getting here early in 2013 and want to "catch up" you can do a couple prompts each week until you're caught up.  Ultimately it's up to you how you approach it.  No need to stress.  Kindness is kindness and there is no right or wrong.  The only wrong would be to choose not to do it because you're late.  Don't worry about that!  Just do it!

9.  What type of support is there?  Is there a community?
We have a facebook group started where people participating can request to join.  We'll share ideas, discuss challenges and maybe even share photos.  Email me and I'll send you the link to the facebook group.
10.  I'm a blogger and I'd like to "link up."
AWESOME!!  Just email me a photo and the link to your blog (or a title and link) and I'll add it to the bottom of my post on the appropriate Monday.  I am working on researching blog link-up services and will likely add something like that at some point this year.
11.  I don't have a blog but I have an idea or photo I'd like to share.
AWESOME AGAIN!  Just let me know!  I'd love to have guest-posters throughout the year to share even more ideas!!
12.  I'm having trouble coming up with ideas… any suggestions?
Absolutely!  I will keep running lists of kindness ideas and service project ideas here on the blog.  In the facebook group and on my facebook page I will share links throughout the year whenever I find them chock full of ideas!  And never hesitate to ask in the facebook group or in the comments on the blog.  I'm here to help!
As additional questions arise I will add them to this list.  Do you have a question?  Leave a comment or send me an email!  I'm here to help and SO, so, so excited you are along for this amazing journey.
Let's go out there and make this world a better place!