Last weekend I had the pleasure of both attending and photographing a 1-year-old birthday celebration for the son of one of my college roommates.  I'm always on the lookout – as most moms are – for fun, creative and simple ideas for birthday parties so when I saw these centerpieces I had to snap a couple quick pics.  I asked my good friend Ayo if I could share her project on my blog since I probably have a few newborn clients with little ones that have their first birthdays approaching and she said yes!
So here's an inexpensive, cute and super-simple idea for birthday party centerpieces!  All it takes is a piece of styrofoam, some wrapping paper and a bulk bag of yummy lollypops!

The resulting blossom of lollipops was just too adorable!  And trust me!  These were a huge hit with party-goers of all ages!  She had a variety of shapes of styrofoam too – the ovals worked nicely but a cone shaped styrofoam base was also fun!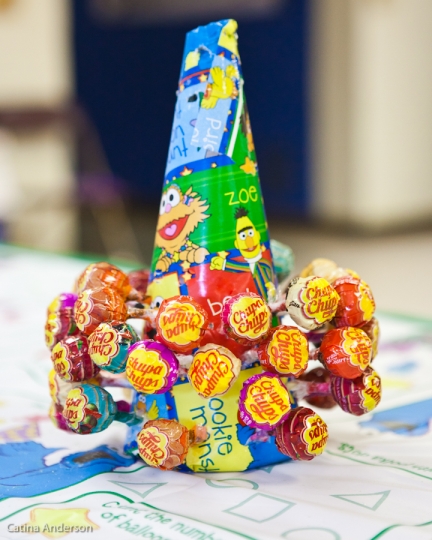 Great idea Ayo and thanks for letting me share!