Today's post is part "Print those Pictures!" inspiration and part public service announcement!
Today I got a mammogram.
Yep… sorry guys… I know it's "too much information."  But I had to share because it's so important.  If you are old enough for a mammogram – please don't forget to schedule yours for this year.  If you're not yet old enough for a mammogram please don't forget that monthly self-exam.  I can't stress it enough.
And, no, I'm not a freak who loves to go to the doctor.  Actually… I rescheduled twice thanks to snowstorms and almost called this morning to cancel… "fight or flight" kicks in every time and I get to the morning of the appointment and think… well maybe I'll just reschedule.  Because it's scary to think about going there and possibly finding out something could be wrong.
But it's even scarier to find out something really is wrong and not to know until it's too late.  So when I called this morning in a panic to reschedule and got disconnected by accident (actually routed by the nurse to the wrong number) I took that as my sign that I needed to just suck it up and get in the car.  So… yes… it's scary for everyone.  And not the most comfortable thing in the world.  But worth it.  And besides… I was quite amused by the mammo tech who kept referring to "them" as "righty" and "lefty" when she needed my assistance with positioning… silly lady.
Okay… so … a break from "oversharing"… what about the "print inspiration" I promised?  This week I decided to try out Shutterfly.com for some of my personal pictures because they emailed me a promotion to get 10 free photo notecards and I also had a $20.00 gift card left-over from our "Visit to Santa" package at the Dulles Town Center this year.  Both were set to expire Jan. 30 so… true to my procrastinating self… I sat down at 10:00 p.m. on Jan. 30 to place my order.
I choose a series of photos I took 2 years ago – just after I got my first DSLR.  These pictures just happened to be a series of pink ribbon pictures that I've been promising my mom I would print for her and, sadly, 2 years later still had not.  You see, my mom works tirelessly to raise money for the Komen Global Race for the Cure.  We've had a team for 5 years and have raised over $25,000 so far.  My mom's specialty is crafting – she spends every second of her free time crafting pink ribbon items to sell to friends, co-workers and at a semi-annual Lions Club craft fair in Brandywine, Maryland.  She calls it her "Pink Obsession."  And she's truly making a difference.  So I thought a couple sets of pink ribbon notecards might be nice – she can use them to thank all the generous crafters that donate items to her table at each fair.  Shutterfly allows you to order every card separately so I went with 5 different photos in glossy finish and 5 in matte finish so I could compare.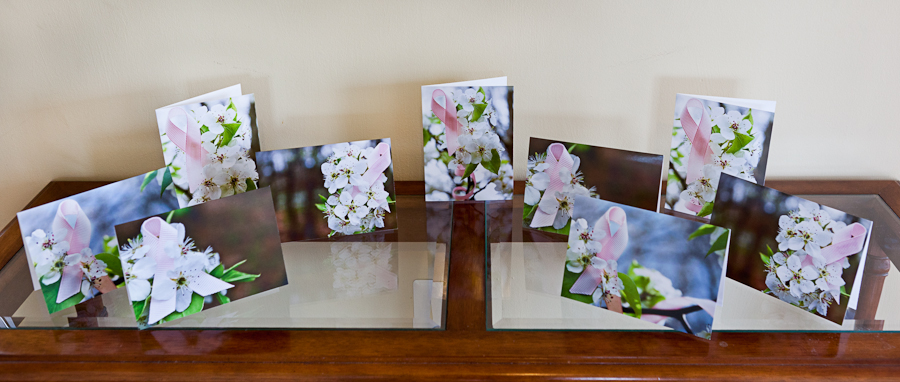 The cards turned out very nice.  They're 5 x 7 in size.  The matte cards are a dull/flat matte finish so I actually prefer the glossy style for these.  There is a Shutterfly logo on the back of the card but the inside is blank.  I think she'll be very happy.
I also had that $20.00 gift card so I decided to try out a couple of their other specialty products.  One will have to wait for another post… but I'll share one more today.  I had this small – wallet-sized magnet printed for just a couple dollars.  I LOVE it!  This one has a nice lustre finish (so it glistens a bit in the light), the color was great, the quality of the magnet and adhesion to the magnet is great.  And I've made my ugly file cabinet just a little bit prettier!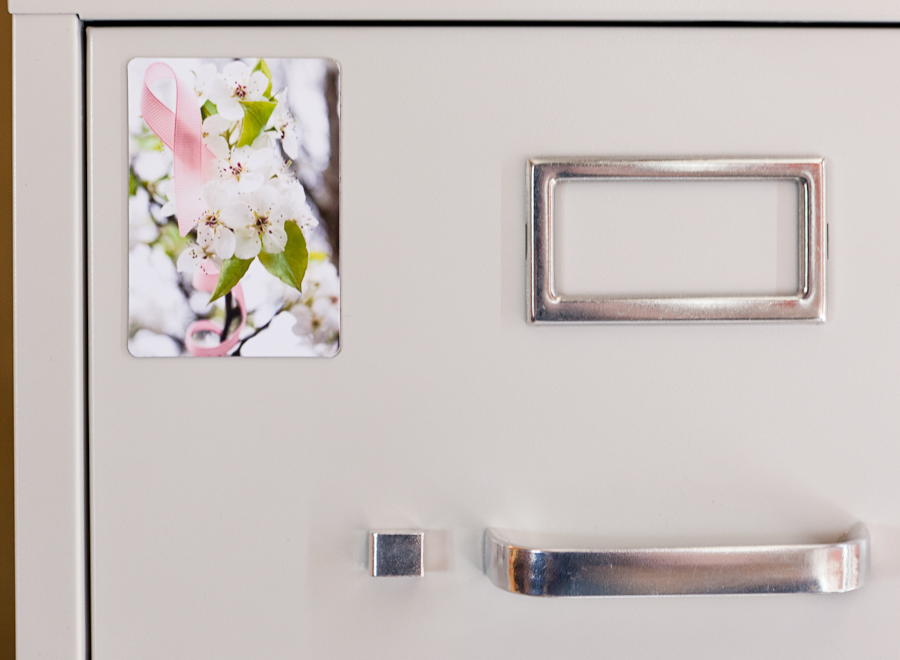 And how did the mammo turn out you may be wondering?  Well… I've been "lumpy" for years.  So I knew they'd find something.  Thankfully it all looks the same as what they have seen in the past.  So I'll visit my surgeon who'll take another look just to make sure – and who will compare these results to the previous.  What stood out as significant to me though was the fact that with the mammogram they could NOT see all the lumps that I felt with my self-exam.  The mammogram only found one lump.  But there are at least 2 (perhaps more) and the second was confirmed by the follow-up ultrasound.
So even if you're getting regular mammograms – the lesson here?  Don't forget about the self-exam.  They're SO important because you may catch what the mammogram can't yet see.
And the "print those pictures" lesson of the day?  Well – it's 2-fold.  Look for free offers and try out new products!  Sign up for photo services like Shutterfly.com – they frequently offer discounts and free offers which allow you to both print your pictures and try out new products.  And more importantly… don't limit your photo printing to albums and prints!  There are all sorts of fun ways to get your pictures printed and on display including products like photo magnets and notecards!
Now go print something – and then do a self-exam!

(…my mother always did say I was bossy!)