On Monday we started our spring break with a day trip to the Tidal Basin in Washington D.C. to see the Cherry Blossoms.  Despite having lived in this region my entire life I've never gone downtown during the Cherry Blossom Peak except one drive-through on the way home from something a couple years ago (we didn't even get out of the car!).

This year I thought it might be nice to finally go but also that it might be boring for the kids to walk around looking at mommy taking pictures of trees all day.
After some short internet research I found 2 fun programs that transformed the day from camera-focused to kid-focused.  We gathered a few friends and had an awesome time!
Girl Scout Council of the Nation's Capital (GSCNC) offers a "Gift of the Trees" Patch Program
and
The National Park Service Offers a special Junior Ranger Program for the Cherry Blossom Festival
Click Here for the 2014 Junior Ranger Booklet
The two overlap in terms of requirements to some degree so we decided to pursue both.  We printed the Junior Ranger Packet before leaving home (and there are several pages you could do at home before leaving if you wanted to save some time – or do them on the metro as you ride in to keep the kids busy).  We had a gorgeous 70+ degree day so we grabbed a picnic lunch (admittedly slacker-mom here grabbed subs and bag of chips from 7-eleven on the way out…) and sat beneath a grove of trees and filled out a good portion of our junior ranger packet there.
Some of the other pages require you to search for monuments or statues or other information on site.  The kids (all 3 – 4th grade) seemed to really enjoy the scavenger hunt aspect of this.
We walked the entire tidal basin which is a pretty long walk (and despite being a weekday and post-festival it was super crowded…so be prepared for that if you go mid-day anywhere near peak-bloom).
Some tips?
print the maps from the Cherry Blossom Festival website (we did… and then accidentally left them in the car…lol)
wear sunscreen
wear comfortable shoes
know where the bathrooms are (we found nice bathrooms at the FDR memorial and the Jefferson)
Take water – each child had a backpack but we didn't drink enough water during our visit…
Plan some time for a treat afterward!  The carousel and a snack bar are just beyond the metro stop if you ride to the Smithsonian Metro
If you ride the metro to the Smithsonian stop there is also a ranger station right next to the stop.  Check in when you get there to make sure they have badges.  This was a really convenient way to end our day.
print the Junior Ranger packets online – they don't always have them left at the ranger stations
talk to the kids before going about some of the rules for protecting the trees including not picking blossoms and not climbing trees.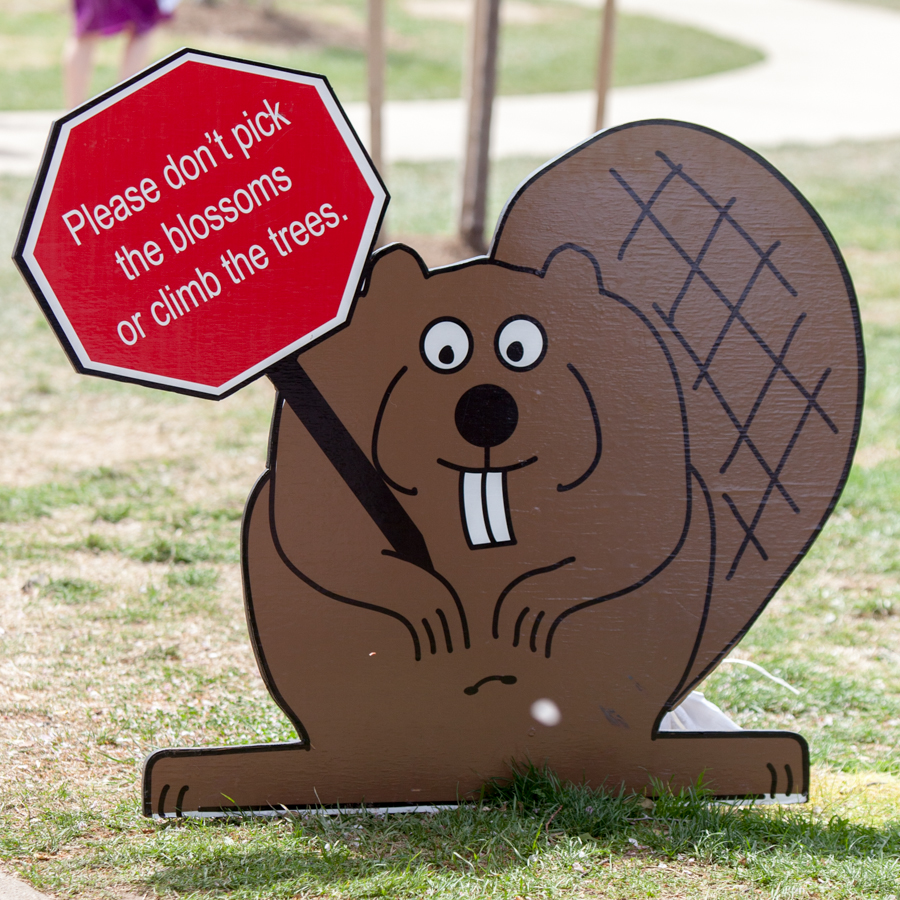 This Junior Ranger Badge is a plastic "police shield" type of badge with a Cherry Blossom logo.  The rangers were really great about making a big deal over the work the kids put into the badge, looking through their packets, asking them questions about what they learned, and finally asking them to recite an "oath" to protect the parks.

We're now focused on finishing up our at-home requirements for the girl scout patch program by the end of the week.
As mom, this was fun.  It gave me a chance to get downtown and see the trees – snapping a few pictures along the way (though it would be awesome to go one day with just the camera and really spend some time making art).  It gave the kids a fun challenge and reward.  And all of us learned details and facts about the trees and the history of the festival that we would never have otherwise known which is also pretty cool.  In addition, we visited 4 different monuments (Martin Luther King Jr., FDR, Jefferson and George Mason) and walked past the Washington Monument.  We also saw other statuary gifts from Japan and learned about their history as well.  We also may have ignited a spark for exploring… my kiddos are now interested in "collecting" junior ranger badges from other National Parks.  Fourth and Fifth grade might be the perfect age for this sort of activity.
But… let's not forget about the most important part…
We had a great adventure with friends!
Here is one more blossom picture to end the post.  I'll share a few more images from our trip in days to come.