Wow!  This has been an exciting and rewarding start to our 2013 "Focus" on Kindness.
Week 1 In Review
Last week's "assignment" was to brainstorm with our kids and start a kindness calendar for the year along with jumping right in and doing a random act of kindness.
We found that acts of kindness were not hard to come by.  Throughout the week we easily stumbled upon 4 different acts of kindness among the four members of our family.  These included helping a stranger in need, spreading joy among our family members (one daughter made us an "I love you" note and hung it on our bedroom door as a surprise) and intentionally trying to make a couple friends smile.
But, I threw the kindness calendar out the window… I just didn't feel like we're ready yet to plan a whole year of projects.  I felt more comfortable with a list so we started brainstorming ideas.
It looks like this…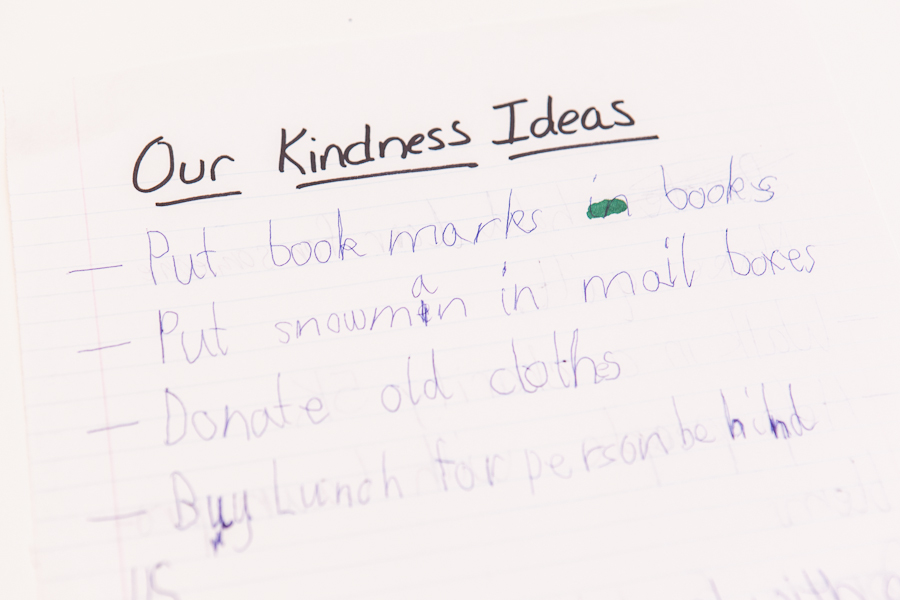 (by the way… there are more ideas – but certainly not 52… and the snowman is a craft project – not an actual melting snowman… lol).
I realized that we could easily continue with doing kind deeds whenever the need arises but I also wondered whether I could do anything to make this somewhat more of a creative challenge – to get our family thinking outside of our own experiences and coming up with new ideas.
Expanding our "kindness literacy" so to speak…
How could I challenge the kids to be creative and think of new ways to help those around us?  What could I do to challenge myself to research new ideas and be more intentional?  How could I make sure that this project remains "fun" and does not become "same old, same old" every week… I mean after all, there are only so many times we can pay for the person behind us in the drive through before the kids are bored and done (that is their #1 most exciting idea on their list).
That leads me to our new Project 52 Kindness Word of the Week!
Our Project 52 Kindness "Word of the Week"
I thought, "How cool would it be to give the kids a word each week that challenges them to think of a kindness project inspired by that word?"  Most Project 52 photography projects have a weekly theme or prompt and I'd been trying to figure out whether a weekly theme would work with this one – since the needs of our communities might vary.  After spending a week brainstorming with the kids and coming up with a small list of the same ideas over and over I KNOW this will be a great addition to our project!
Each week I'll post a prompt – a word of the week – to push us to brainstorm beyond our original list and come up with ideas we might not have otherwise considered.
My hope is that these weekly words will be a fun challenge for our whole family – a way to expand our "kindness literacy" as we
brainstorm…
research…
discover…
and create…
…new ideas to satisfy the weekly prompt.
I'll post each week's new word here and keep a running list on a separate page for anyone who starts late or gets behind and wants to catch up.
THIS WEEK'S WORD: MAILBOX
How can you use a mailbox to spread kindness, create joy or serve others?
I hope you will all join me in this week's challenge and then next week we'll have a great number of new kindness ideas we can add to our running lists that other families can be inspired to try!  Be creative!  Follow the prompt as closely or as loosely as you desire.
Of course, as I said last week – you can make this project your own!  If you've chosen another structure or have another approach that's TOTALLY OKAY.  This is just another fun idea to throw out there.  You can use it – or you can fly your own path as well.  If you're following along with the weekly prompts and you hit a week where what you want to do doesn't fit the prompt – that's okay!  Just skip the prompt that week and…
…do what your heart leads you to do.
Ultimately it's YOUR project!  Let your heart lead you!  And I'll be here to help however I can!
Which leads me to share some thoughts on support and inspiration…
Our Facebook Group
After last week's post I started a facebook group open to anyone following along with this 2013 "Focus" on Kindness.  Already the group has grown to 25 members plus myself.  That's 20+ families who will be committing this year to intentionally spreading joy every week in 2013!
That makes me SO happy!!  If you'd like to join along please send me an email and I'll send you the link to our facebook group where we will be sharing ideas, supporting one another and urging each other on so that this goal is not one that falls by the wayside come February!
The Photo Project
One part of this challenge is to document the year in photos.  You can customize this for yourself as well.  I will be taking photos of my family's journey and from time to time I may share them here.
BUT there is no pressure to share.  
I've decided that for me what feels right is to share photos when I think it's an experience other families might be able to use or need a glimpse of – like the photos I posted Thursday of the quilting project we're doing later this month.  Other weeks I'll be sharing our word of the week and reporting on some of the best ideas I've heard of from others – or the best resources I've found in that week's research.
You can keep your pictures completely private if you like.  You can share them in a private album on facebook or in our fb group.  Or you can forego taking the pictures altogether – maybe keep a written journal instead.  Whatever works for you.
The idea is to document the experience for your family – to have a way for the children to look back at the end of the year and see the "big picture" – to have a way to preserve these family memories at an age when memories are fleeting (heck… at MY age memories are still fleeting! lol… that's why I love photography!).
Linking Up and/or Following Along
If you do decide to share a photo or reflective post publicly and would like to link up I'm going to go the old-school route and ask you to email me your web url and a thumbnail image and I'll add them to the bottom of this post as they come in.  Sometime over the course of the year I will probably transition to an automatic way to do this (a typical blog party link-up) but I need to do more research before taking that step.
Please subscribe to this blog to make sure you don't miss a post – there's a subscribe box above in the menu bar and it'll send you an email with every new post.  And "like" the facebook page where I'll not only link to posts but also link to inspirational articles and other online resources for family service ideas.
And now it's your turn!  What word do you think would make a good Word of the Week sometime this year?  Leave a comment below with your ideas!