I'm toying with the idea of posting a photo a day this summer… not sure I'm ready to commit.  But I certainly would like to start sharing a bit more now that we're planning to be out and about for summer.  Last year I put forth that I would be exploring the region with my kids and sharing what I find here on the blog.  Well – as sometimes happens – in the pursuit of getting things perfect I have not posted much of anything at all!  Planning behind the scenes and changing my mind after changing my mind…
… let's just say that sometimes it's better just to get things out there than to wait for them to feel perfect.
At any rate – I do want to do better about posting more regularly and sharing even little daily discoveries knowing how grateful I am to other moms who do the same.  Those of you who share your ideas and explorations with me through blogs or facebook have really made my life richer.  I want to give the same in return.
So – every post might not be an earth shattering fantastic idea – but maybe it will be a fun outing or experience for someone out there.  So here goes.
Today we did a couple of fun things to kick off summer including a trip to our local roller skating rink.  But the more unusual outing was a visit to the Loudoun County Public Schools Administration Building.  One of my daughters found out that a piece of her artwork had been selected for display at the admin building and she was itching to go see it.  The admin building is in Ashburn so we coupled this outing with meeting Daddy for lunch and it was really nice.
The flyer we received said that we could bring a camera and look around so we took advantage of the opportunity.  Here's a peek at the display with beautiful, framed student artwork lining the corridor.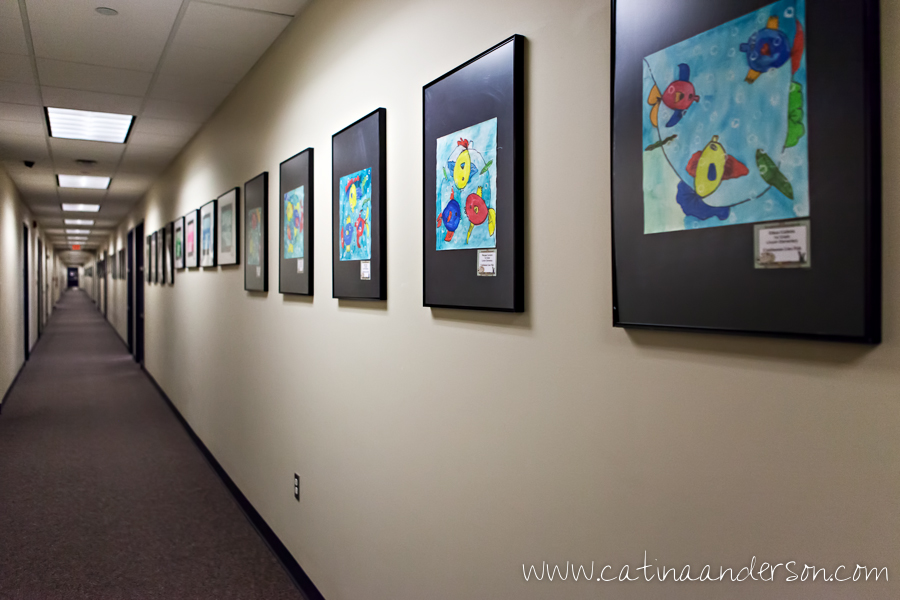 What was really neat is that all of the employees that saw us in the hall were just SO sweet.  Each and every one stopped to talk to the girls.  They asked my daughter which piece of art was hers and gave her a chance to show it off a bit.  They congratulated her and made her feel really special.  I was so impressed with how sweet they were to make the kids feel great.  The girls were just as excited to point out the artwork of their classmates and friends as they were to show off their own.
So this was a 15 minute stop that was well worth the visit.  There must be at least 100 pieces of artwork displayed – maybe more.
If your child has artwork on display I would say it is worth stopping and taking a peek.