We are raising Monarchs again this year and participating in the Loudoun Wildlife Conservancy's "Bring Back the Monarch" campaign.  This year has started off busy, busy since we spent all summer planting and nurturing a butterfly garden.  We planted large areas of nectar plants near our driveway and a row of milkweed in an old, overgrown patch of our yard.  As I checked the milkweed patch about once a week in July to weed out the grass that was creeping in we were astounded on July 28th to find 10 large Monarch caterpillars a full month earlier than we found our first one last year.  At that point I don't even think we'd seen a Monarch in the yard (though now we've seen many!).
Last week we released all 10 of those first butterflies.
This was one of the images from that first release.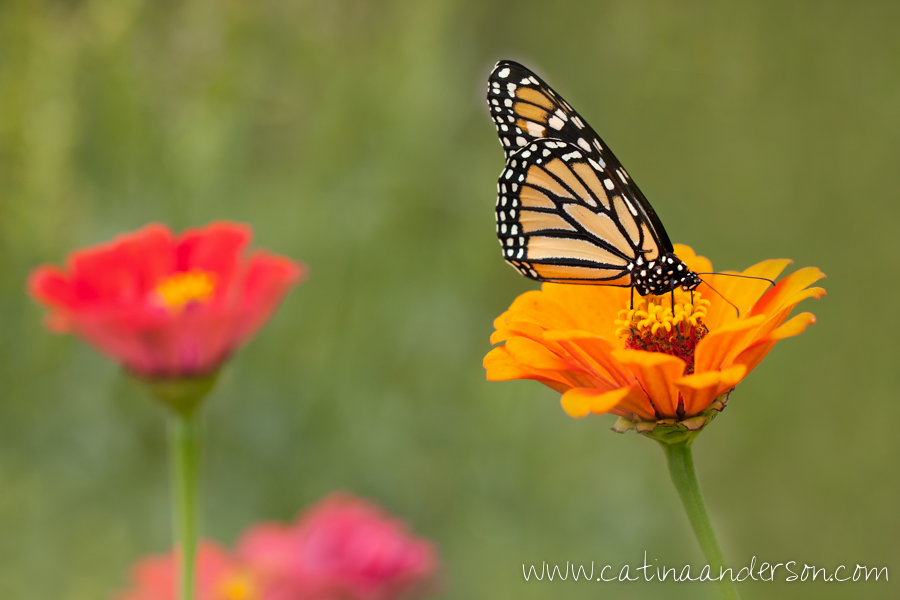 Now we've got several enclosures set up indoors and we're tending to upwards of 50 eggs and caterpillars, some of which we found in our garden and others we found in the local school butterfly garden.
We're hoping to be able to share their growth and transformation with the classrooms at the local elementary school again this year and we are really looking forward to the releases coming this fall.
It's such an amazing process to witness and it feels great knowing that we're helping to increase the number of butterflies that will survive to migrate.
The kids are really excited about it this year and have been a tremendous help in taking care of the first few caterpillars as well as participating in the release and helping to share information we've learned with friends and neighbors.  We purchased a few new books about Monarchs and they learned how to predict whether the butterfly will be male or female from the appearance of the chrysalis.  They then made a chart to track their predictions.
They're also excited to pass along what they've learned to others and I'm thrilled to see their deepening appreciation for all types of butterflies growing from our participation in this project and the building of our butterfly habitat here in the yard.
It's been a lot of hard work tending to the gardens and I know it will take a good deal of time tending to the caterpillars but it's truly and experience that has been worth it!