Puppy has a name!!
After an entire week of agony deliberation, we finally settled on a name for our adorable copper-colored cutie.
She'll be called "Penelope Rose" a.k.a. Penny.
One of the girls came up with the name Penny early on in the naming saga because she is a gorgeous copper color.  Eventually we narrowed the choices down to Penny, Rosie, Lucy and Junie B. (as in the Junie B. Jones children's book series because she's always getting herself into a little bit of trouble despite being absolutely adorable).   The grown-ups liked Junie B. the best.  My facebook friends were pulling for Lucy.  One twin chose Penny.  The other twin chose Rosie.
And then they dug in…
Finally though … an agreement to compromise.  Mommy wanted a "pretty" name so Penny was transformed to "Penelope" for a bit of a flourish… and the twin which wanted Rosie agreed that Penelope Rose was satisfactory.  Daddy wanted a "cute" name… Penny fit the bill.  Everyone is happy… and puppy FINALLY has a name!!!
Anyway – I spent a little time with Penny the other night chasing her around the grandparents' kitchen with a camera (she's quite the well-traveled dog already as she's been to Southern Maryland and back twice thanks to the storm and the holiday… she does spectacularly in the car.  No motion sickness and she actually seems to enjoy it… running for the car door when she sees it open).
What I'm most impressed with at the moment are her amazing and surprisingly beautiful eyelashes.
Just LOOK at them!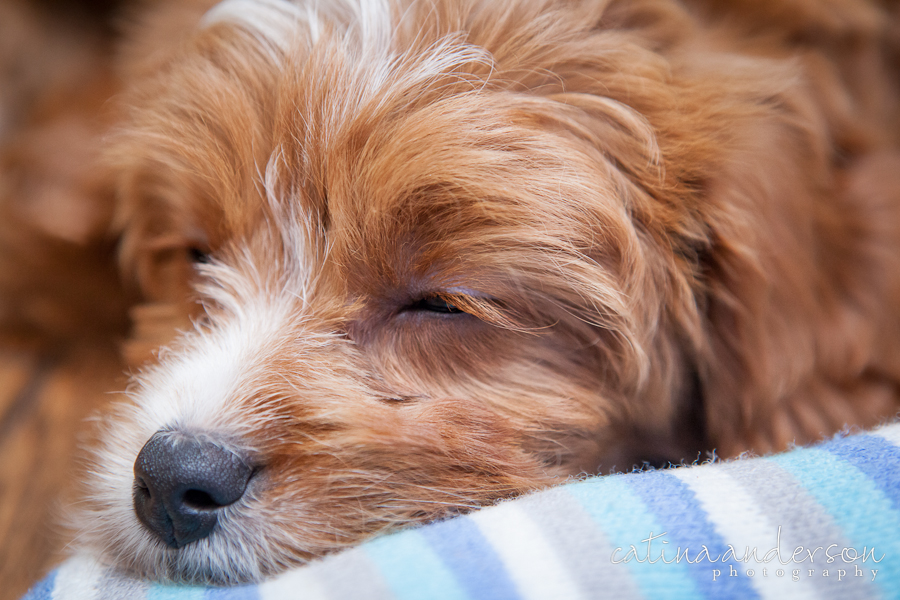 So there's your puppy pic of the day.
Back to work for me.  Today was my first property session after almost a month off for vacation and other "start of summer" endeavors.  So it's off to upload proofs, walk the pup, make puzzles with the kids… and generally back to normal.  Well… the new normal that a puppy has brought into our home.
Stay cool out there!!