I originally posted this a year ago – on my very first, very short-lived blog.  While I've grown tremendously over the past year, in many, many ways I still find myself that same impatient-with-myself, second-guess-every-step perfectionist/worry-wort that sat in the gym a year ago staring at this very important message.    The tasks or goals that I am facing may be different than they were a year ago – but I still wrestle every day with balancing worry and excitement, confidence and self-doubt.  I only share this here because I believe that many of us are the same.  Whether it's starting a new business, learning a new skill or just making everyday choices as a parent it is sometimes difficult to be patient with ourselves and allow for time to grow.
In moving forward this New Year with growing my business I am facing decisions daily that require me to learn new things…to venture into areas where I'm not yet an expert…to step outside my comfort zone.  And when I get impatient I often remember this experience I had last year and it helps me refocus.  So I'm reposting it here in case any of you might also be facing a new challenge and might relate.  Warning… like me it's a bit long-winded!  Here goes!
_________________________________________________________________
[originally written January 12, 2010]
I believe that sometimes we are provided with clarity, with hope, with lessons amidst the fabric of our daily lives – just exactly when we need them most.  Sometimes these messages present themselves in a subtle way… perhaps an instinct, a nagging feeling, a conversation overheard, a new acquaintance.
And other times they are so obvious you just know that somehow you were supposed to hear them.  Those "right place, right time" or "right person, right time" situations.  Those times when so many unusual circumstances converge to a moment where you get exactly what you've been needing (especially when you didn't know you were needing it!).
This weekend I went to a rehearsal camp for the colorguard that I used to coach full time.  Their out-of-town choreographer was in town teaching the rest of the routine to the performers and I wanted to use the time to both catch up with the staff and to practice my photography skills under tough indoor-sports conditions.
The funny thing is they were rehearsing in a gym at a local elementary school that I had never been to because their own gym was booked for the weekend.  Since I resigned my full-time coaching position last spring to spend more time with my family and build my photography career I have only found time to attend a handful of rehearsals but I really felt compelled to be there for this weekend.  So I packed my bags and headed out the door.
When I walked in and put down my camera bag I turned around and THIS is what I saw painted on the wall.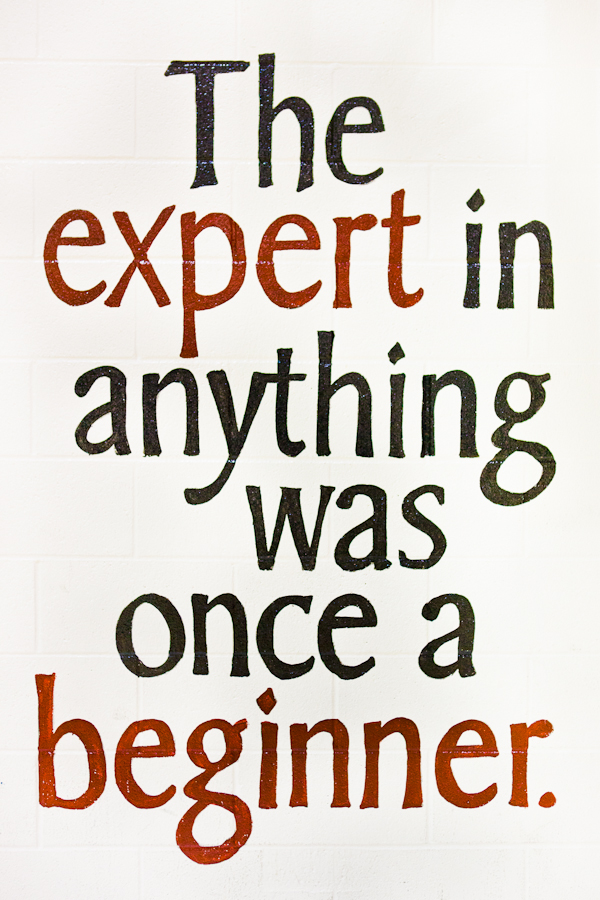 Let me just say that I spent most of the day just staring at this painting on the wall.  It was speaking right to me… at this moment in my life, this was just the message I needed to hear.  And as I sat through about 6 hours of rehearsal over 2 days it was a message I had the opportunity to read over and over… almost obsessively focusing on these words.  And it's a message I haven't been able to stop repeating to myself in the two days since I left that gym.
You see, I spent over 15 years coaching beginner performers, reassuring them of just this same principle.  When they would get stressed because they were overwhelmed by the new skills we were asking them to learn I would calmly reassure them that we've all been there… that every veteran on the team was once a beginner… that we all understood… that they needed to take a breath and not be too hard on themselves… that with hard work and focus they would be achieving sooner than they could imagine and we'd all be there to support them along the way.  I can't even count the number of times I've expressed this message to my students over my tenure as a coach.
But when it came to my own insecurities… it was not so easy to heed my own words of encouragement.
Instead, the negative voices of perfectionism and self-doubt would creep in.   I want to be amazing NOW… not later… I see photos taken by other photographers and the fear screams out, "What if I'm NEVER that good?"  I certainly experienced those feelings as a colorguard instructor.  I think about the business aspect of my dreams for the future and get overwhelmed with the amount I don't know.  I put out a blog post or photo and then find myself diving into worry over the potential for criticism.
At times it's been enough to make me question whether I'm capable of achieving my dreams… of taking the next step…
So while that message on the wall was completely appropriate for the setting (an elementary school gym), this time I knew that I was meant to be in that place, at that time, pondering those words.
It was a realization that I need to be patient with myself.  I need to work hard.  And I'm already doing that.  But more than that I needed to heed the same advice I've given my own students for years.  I need to believe in the process.
I need to believe in myself.
"The expert in anything was once a beginner."
I will get there if I keep taking that next step.  I will get there if I don't let fear or impatience stand in my way.  I will get there if I continue to follow my passion.
I will get there if I can accept that being a beginner is the path to becoming the expert.  I will get there if I keep asking questions and seeking answers.
I will get there so long as I don't give up.
And I hope that if you are also a beginner (whether that be with photography or colorguard coaching, starting a new career or even parenthood) and you find yourself struggling with these types of fears and insecurities… if you fight those perfectionist desires… if you wrestle with those negative voices of self-doubt… that you too will find comfort in these simple words painted on the wall of an elementary school gymnasium.
For me, they have helped put things back into perspective at a time when I needed a bit of confidence… when I needed to take a breath and forgive myself for not being "there" just yet in my own mind…
"The expert in anything was once a beginner."
And these words fill me with happiness and hope.