I haven't posted in a long, long time!  It's been over 2 months!
I've been taking some time to figure out which direction to go… and well… I still don't know.
But with the holidays here I thought it would be nice to share some of our crafting and traditions because I am so grateful to other bloggers who have shared their traditions as we have been able to adopt a few for our own family.  Because of their sharing I feel like our lives have become richer.  So I thought it would be nice to share in return.
Today it's a silly, easy project that has literally "stuck" with us for many (maybe too many) years.
When we were young and first married we needed a topper for our Christmas tree.  If I'm not mistaken, it was our very first Christmas, living in Maryland.  I collected a bunch of those Prickly gum balls from the sweet gum trees in our yard.  It's been over 15 years… but I believe I baked them to dry them out and try to kill anything that might be living in them (note… we've never had an issue with anything growing on them so I'm assuming it was either effective or not at all necessary – but I'd probably still do it just to be sure).  I then simply spray painted them gold and hot glued them together.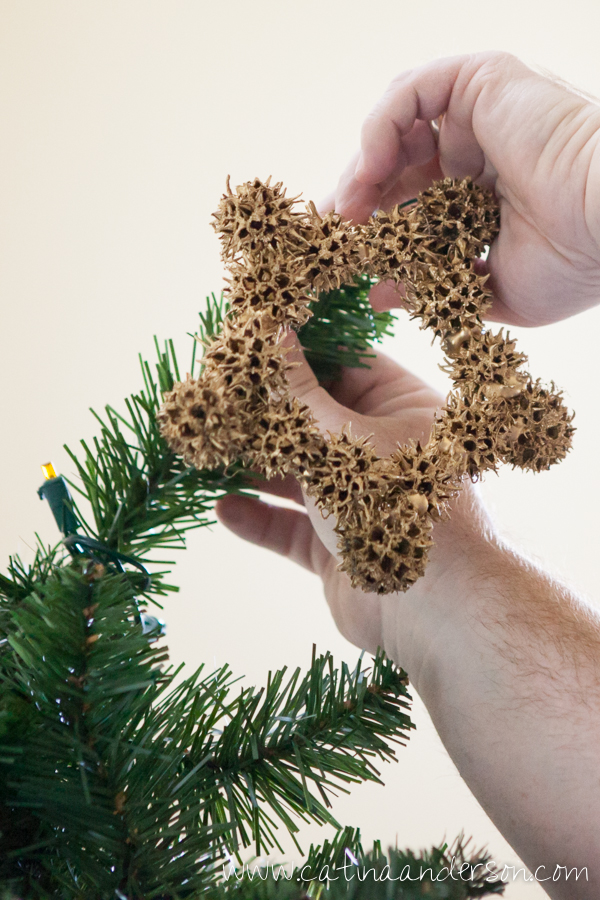 Over the years I've suggested we replace our tree topper star but my husband fiercely vetoes these requests.  The gum ball star has found it's place and is "stuck" in our hearts (hehe…).
It's been repaired a few times (nothing a little hot glue couldn't remedy).  And this year it, once again, graces the top of our tree.
Maybe you don't want a gum ball star atop your tree but it is a cute and easy craft for kids decorating outdoor trees or to add to outdoor wreaths if you live in the vicinity of these otherwise annoying seed pods!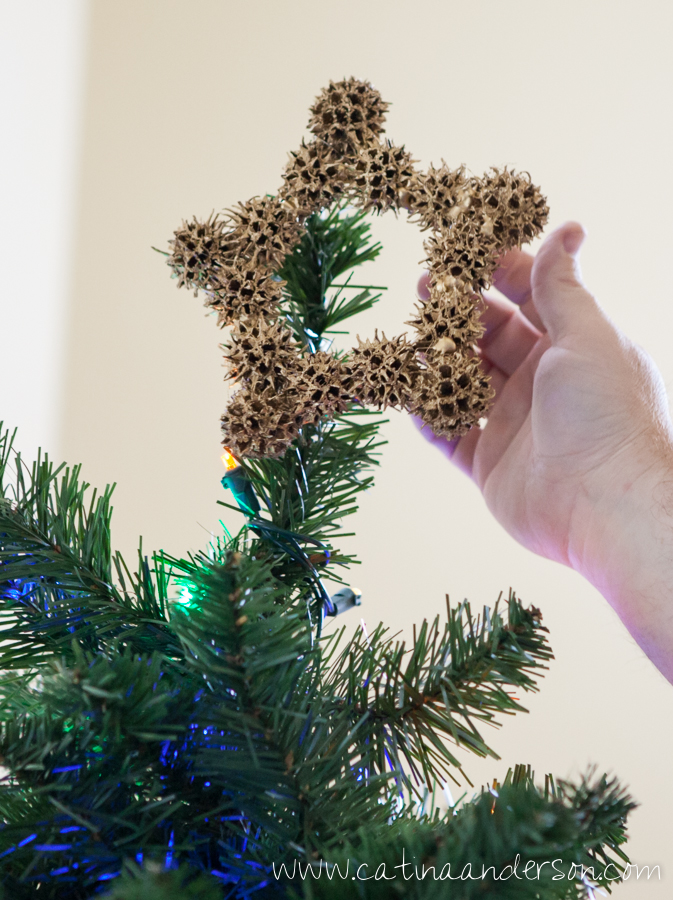 Do you have a handmade ornament that has stood the test of time and become one of those special decorations that MUST be put on the tree?  I'd love to see a picture and hear your story!  Please share in the comments below!