I've been contemplating dividing my blog into two sides.  One for photography and travel and the other for crafty stuff.  One day I was imagining what I would name it and the first thing that popped into my mind was "Handmade Heart."  It's a perfect name to me… I have always had an obsession with hearts (my engagement ring is even a heart!) and I love to make things.  I did start a page called handmade heart here on my blog with the intent of switching things over.  That's when I realized the Facebook page was already taken for handmade heart… and well… I'm not sure I can keep that name now.  I do love it though…
At any rate… I have been busy this winter making lots and lots of projects so I thought I'd share one.  Sometimes I make up my own patterns.  Sometimes I use patterns from other generous crafters (usually found through ravelry.com).  I've shared a few of my patterns here on the blog but thought, why not share some of the projects I make from other people's patterns and link to them?  After all, I love finding new patterns – especially free ones.  So why not spread the love?
So this is a cute little set of hearts I made for my daughters as a Valentine's Day surprise.  They're perched there in the picture on my dad's truck dashboard because I made them during a car trip to Florida.  LOVE that crochet is a hobby I can take anywhere.  I have such an aversion to sitting and doing nothing and there are only so many times you can scroll through fb posts on your phone without going absolutely nutty… so I pack a bag with yarn, hooks and scissors and can usually keep myself occupied on car trips or outside of swim lessons or theatre rehearsals or the hundreds of other places moms have to 'sit and wait' each week.  It's nice that I can still be creative while I'm waiting.
Here they are: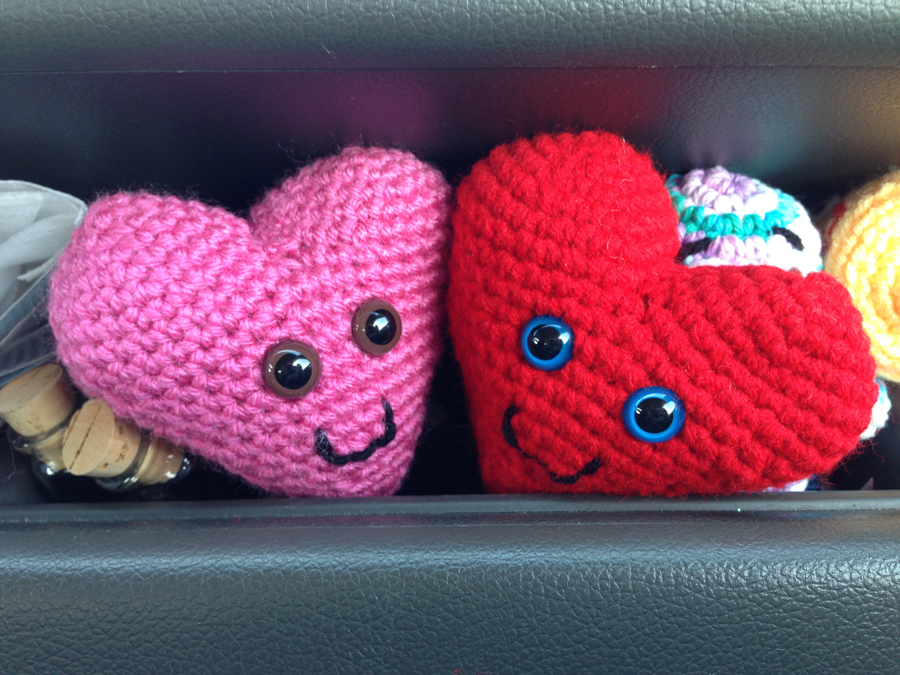 I adapted these a bit.  The heart is completely following the pattern by Miss Dolkapots Krafties titled "Valentine's day heart freebie."  It was easy to make and the instructions and photos were very clear.  I have been making little monster toys for my daughters as a weekly surprise this winter and those toys all have faces.  I wanted the hearts to fit in with this theme so I added some safety eyes and a smile.  Sitting there on the dash they just make you want to smile right back 🙂 .
So, what do you think?  Are you interested in seeing the "finished objects" made from patterns I find elsewhere?  Should I split the blog in two (photography/travel and crafts) or keep all sides of "me" right here?  Or is it completely obnoxious and self-centered to blog these things at all? (I do have those fears and twinges of guilt that stop me blogging from time to time too…).  I'd like to think the posts are helping someone to discover a new project idea or place to go with the kids from time to time… but meh… maybe not?  Still haven't quite figured out whether I should keep this blog post-photography-biz or not.  What do you think?