I skipped a summer… yep… last summer I was busy teaching theatre and traveling and I completely ignored my gardens.  I'm paying the price for that folly this spring having developed what is probably tennis elbow from all the weeding I've been doing… but things are looking up!
In truth, 2 years ago I was diagnosed with Lyme and last summer I had a good dose of fear for going back into the tick infested "wilds" of my gardens.  In our area deer, mice and yes… ticks… are abundant.  I'm trying to get back out there and just be cautious.  This means tall boots, sprayed with repellant, long pants tucked into those boots, long sleeves, hats, and tick checks.  And I'm constantly checking my sleeves and gloves as I'm working among weeds or grasses.  Still, I'm still a bit hesitant because no one wants to end up in an emergency room or even a doctor's office with Lyme during a global pandemic.  So I'm trying to be careful.
Today I went outside in our 90 degree weather to water the seedlings I planted this past weekend.  That's when I noticed my Green Milkweed is in bloom!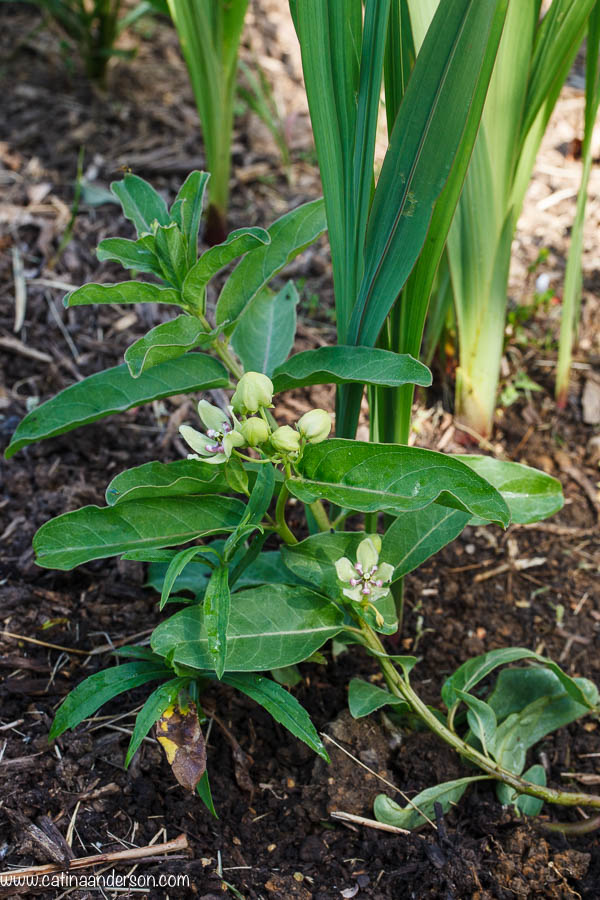 I planted it about 3 years ago in our perennial garden because it's a slow spreader and I wanted to try to get as many varieties of milkweed around the yard as I can.  So I peppered our perennial/cut flower garden with butterfly weed and added this Green Milkweed to see how it would do.  Today was the first time I noticed blooms and they're really pretty!  Plus – I'm happy to report that, like other milkweeds, this plant seems to take care of itself.  Actually – it's done really well while I've really had trouble getting any swamp milkweed to grow in my gardens.  I'll keep trying with the swamp but this Green Milkweed is one I will probably buy more of.  If I get seedpods this summer I'll definitely try to propogate next year.  In 2+ years it hasn't really spread at all but has gotten bigger and stronger.  It suits a formal garden well although it does lay on the ground vs. standing upright.  I love the flowers.  So – enough "talking."  Here it is!