This weekend we visited Fort McHenry National National Monument and Historic Shrine in Baltimore, MD.  I thought I'd share a few pictures and my thoughts after our visit.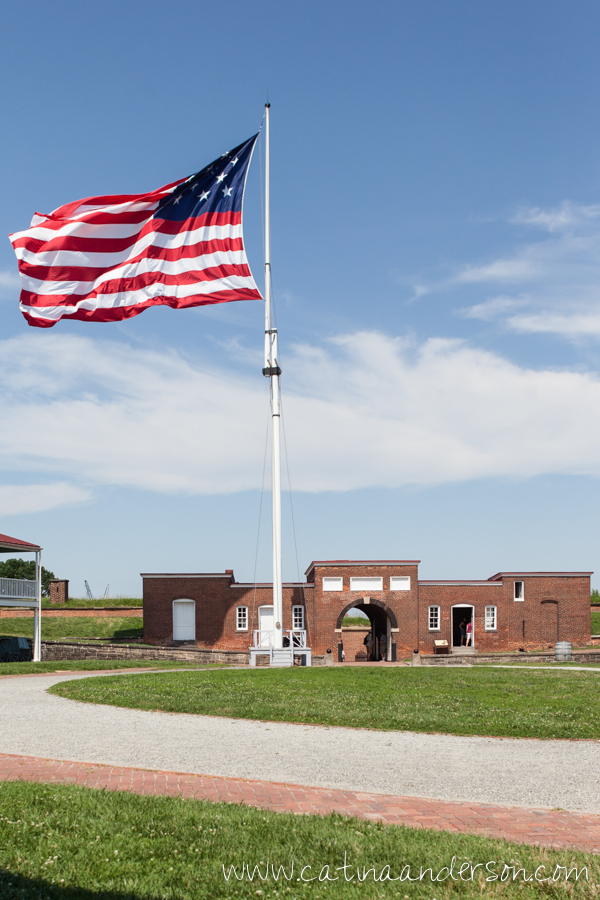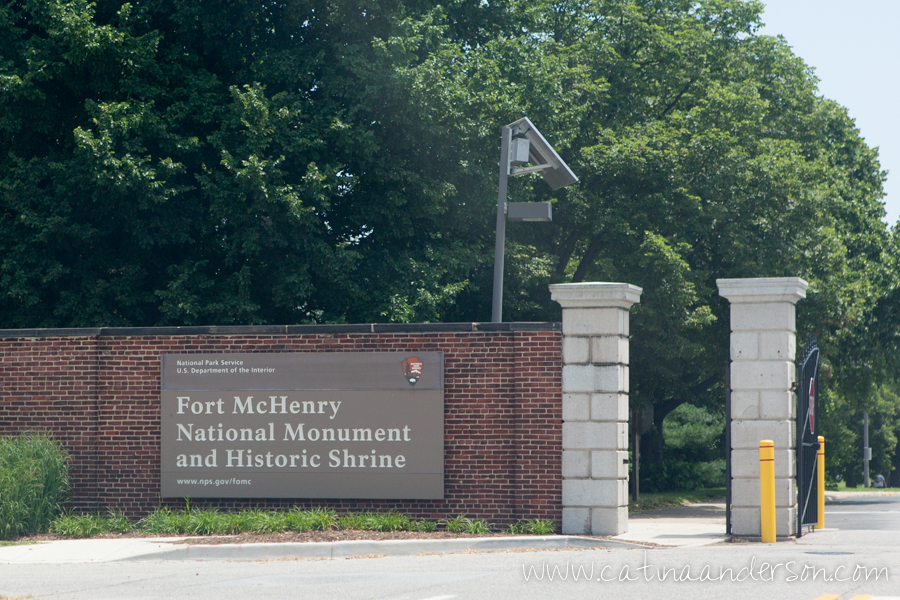 This was a great start to our Fourth-of-July week because the kids learned the history and significance behind the writing of our National Anthem which we'll hear so many times this week and they learned a lot about the history of our National Flag as well.  It is also the 200th anniversary of the writing of our National Anthem so the Fort is commemorating with an event all summer called Fort! Flag! Fire! There are living history participants dressed in period costume throughout the fort and a variety of programs and demonstrations.
We started by checking in at the front desk and picking up Junior Ranger packets.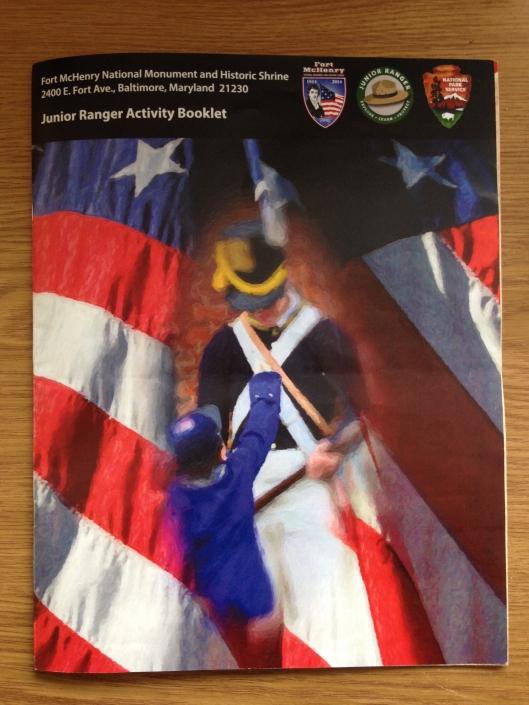 The website says the visit should take about 2 hours but we spent much, much longer since we worked through the entire Junior Ranger packets while we were there and we attended 3 demonstrations.  I think we arrived around 1:00 and weren't finished until right at 5:45 when the visitor center closed.  My husband and I both felt that we would have liked about one more hour to just walk around (especially around the paths that border the river).  If you aren't working the ranger packet it probably would be about a 2-3 hour visit.
This park offers two options for the Junior Ranger Program.  Kids can choose to do five pages at either the easy, medium or hard level (their choice) to earn the plastic badge or they can complete the entire booklet for a special bicentennial Junior Ranger patch.

You could probably do the plastic ranger badge within the 2-3 hour time frame if your kids are working for the plastic badge only (which requires they complete 5 pages in the packet).  If they want to work towards the badge AND the bicentennial patch they have to complete the whole packet which took much, much longer.  It was a significant learning experience but it was also a LOT of work (of course… to earn a patch it should be a good amount of work I think…).  I can't say mine enjoyed doing the whole packet at once during our visit but once we realized it was taking longer than we expected we were already "committed".  However, in the back of the packet there is an address for mailing the packet in to earn your patch.  That's not a bad idea.  Maybe complete just enough pages to earn the plastic badge while you're on-site (so they walk away with something) and then complete the remainder of the packet on the car ride home and mail it in for the patch.  Looking through the book you need to be on-site to complete pages 2 (red), 6 (blue), 7 (white), 8 (red), 9 (red), 10 (white).  So you could complete these pages as well as 3 more of the red pages.  Then finish the packet up on the ride home and mail it in.  Page 5 (a word find) in particular takes quite a long time to complete.   If you must finish the whole packet on-site plan to bring a cooler with a picnic lunch or dinner, find a shady spot on the lawn next to the river and sit to work through it.
SO… back to the visit!
We started with the Introductory Video in the Visitors Center.  I will say this was maybe my favorite park video so far (not that we've visited that many parks… but I'll be surprised if another one is as moving as this one).  I just may have teared up… okay… cried.  I found it pretty moving – in a happy way.

Immediately following the video we attend the Ranger Flag Talk.  This was pretty cool.  We helped to open a very large flag and as we stood around it holding it open the Ranger talked to us about the history of the flag and the fort.  It was quite windy the day we went so my fingers were aching a bit by the end of the 45 minute talk from holding the flag against the wind.  But it was a very cool experience none-the-less.
After the Ranger talk we walked over to an artillery demonstration where we saw them load and fire a cannon.  I don't think these programs happen every day so check the website before your visit to see what programs are scheduled.  It was pretty impressive to see (and hear!).



We were lucky enough to attend on a day where the Fife and Drum Regiment was doing a performance as well.  This was the favorite part of the day for both kids.  They marched into the star fort and then stood and played several historical pieces including the version of Yankee Doodle they believe was probably played as the flag was lifted the morning after the attack on Fort McHenry in 1814.  Don't be surprised if your kiddos then start begging for the fife they sell in the gift shop…




Overall, it was a really nice day at Fort McHenry.  The museums are really well done.  There are displays in both the Star Fort and the Visitor Center that are pretty cool.  Working on the Ranger Packet led us to some facts and artifacts that we would probably otherwise have missed.  It is a nice visit on a nice day with the breeze off of the water (though there are some parts of the park in bright open sun that can be pretty hot (don't forget sunscreen like I did – and hats would help too…).  There is a boat tour for an additional fee although we didn't do that tour.  There is no food/concession stand but you can pack a cooler and take a picnic lunch/dinner.  We did find 2 vending machines for sodas but the sodas were warm and $2.50 each so packing a cooler is a better bet.  If you don't work on the Junior Ranger Packet it can be a shorter stop coupled with another local attraction.  Look at the website for the schedule to determine when programs are – they are well-done and worthwhile to attend.  Finally, if you have a passport there are many cancellation stamps at Fort McHenry.

I really enjoyed our visit.  If it's hot out fans (you can purchase small personal fans for about $2.00 at walmart), water bottles, sunscreen, hats… can all help make it a little easier with kiddos.  The Ranger Programs are a plus as is visiting on a day with lots of demonstrations and hands-on exhibits.  Pack a cooler with treats for something to look forward to while working on the ranger packets.  And make sure not to miss the Video in the visitor's center.