This week's word of the week was GAME, in honor of the Big Game that had everyone's attention this week – the Super Bowl!
In our house this resulted in 2 different acts of kindness.
First, the kids and I found some old craft kits in the basement with a Valentine's theme.  One was a foam mailbox kit they put together.  Then we decided to make a "game" of it.  We are each putting in notes to one another from now until Valentines Day when we'll open it up and read all the messages to one another at dinner.  This one has motivated a bit of intentional kindness within our family.
The second thing we did this week was play an online game called Free Rice that earns money (through advertisers) for the World Food Programme to purchase rice for the hungry.  For each correct answer, an advertiser donates enough money to the UN World Food Programme for 10 grains of rice.  This one was a bit of perfect timing for us.  My girls just finished up learning all their multiplication tables at school but they aren't super solid with them yet (especially when they are out of order).  This online trivia game has a lot of categories but one of them just happens to be multiplication tables!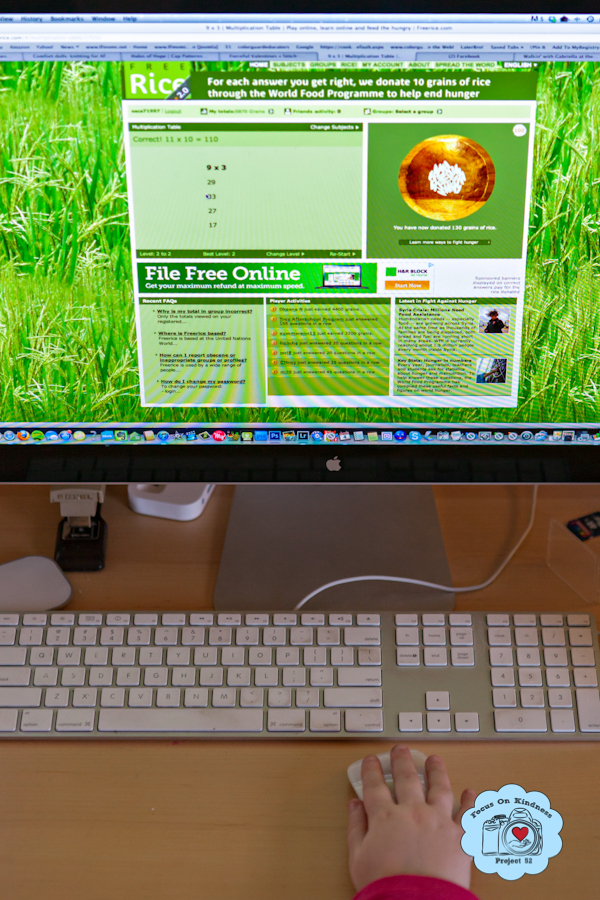 They both think it's pretty hard right now but I'm noticing that each time they sit down to play they get a little bit faster.  They love watching the bowl of rice (on the right side of the screen) fill up with rice as they go from 10 to 100.  With each new set of 100 grains the rice bowl empties and refills.  If you create an account the website will keep a grand total of all the grains of rice you've earned in each subject area and the grand total over time.
It also led to some interesting conversations over  a chicken and rice dinner one night last week as we estimated how many grains of rice were in a 1/2 cup of rice and compared the estimates to what we found online.  We talked about how many grains of rice we would need to earn to feed someone for one day, or a whole family for one meal.
Of course, you could just donate money to purchase the rice (which is always an option).  But if the funds are tight this is another way to help while also honing your skills in a particular subject area.  I figure I spend a bit of time each week playing online games just to decompress – words with friends or scramble with friends.  I can trade some of that time for this trivia game and help raise money to feed the hungry at the same time.   Some of the subject areas include vocabulary, grammar, chemical symbols, world capitals, SAT prep, languages, human anatomy, literature and many more.  The vocabulary section is a fun one to start with as it has 60 levels and you can see how high you can get as you work your way through.  I also had fun seeing whether I could remember any of my chemical symbols or human anatomy from my former life as a science teacher.  And I tested my spanish knowledge a bit too.  The website is described for ages 8 and up.
*****************************************************************
Now if you've been following these posts you've heard me mention Julie Royes quite a bit.  I may just be sharing her kindness photos here every week because she is just amazingly creative and I love, love, love how she's proving that you can start this project with a child as young as 2 years old and make it meaningful.  Here's Julie's photo this week: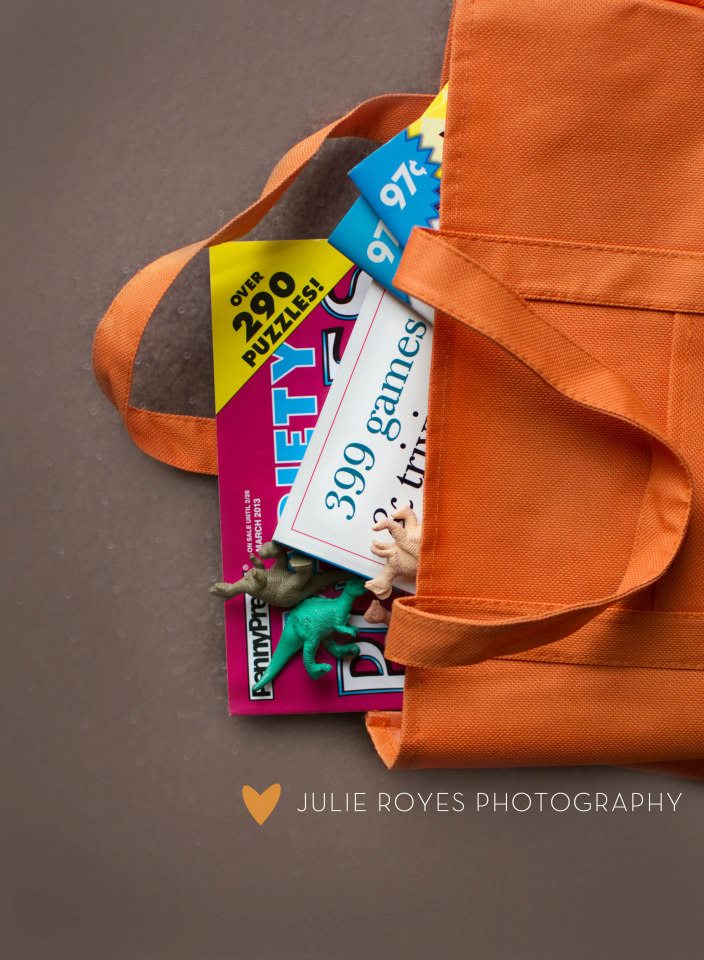 She and her little boy Dylan bought a variety of trivia game books and puzzle books and delivered them to a local military base's emergency room.  On her facebook page she shares the story.  She said they gave the leftovers to the nurse's station and little Dylan "proudly asked them to continue handing them out because 'these dinosaurs make the sick children happy!'"  She says he is really beginning to understand the concept of giving and kindness and she's having an amazing time doing this project with him.  I'm so impressed with their creative approach each week!
********************************************************
And now for the Word of the Week for Week 6:
Clothing
Make sure you follow my page on facebook for daily posts with ideas for creative ways to approach each week's word of the week – something new I'm implementing this week!
And as I said last week, I hope that these posts might inspire you, if you're not already participating, to think about how you can make someone smile this week.  Afraid to commit to a whole year?  How about just one week?  Why not join us this week and see how it goes?  See how great it makes you feel to spread joy and create smiles.  It's never too late to jump in and you don't have to worry about commitment… just do one thing.
Ready, Set, GO!