Today, during my walk around the yard, I saw a Hackberry Emperor who flitted away too quickly for a photo, a Cabbage White and this little butterfly… and when I say little it really was one of the smallest American Lady butterflies I've seen. The size doesn't show well in the picture because there is nothing to show scale but it was definitely on the smaller side.  It flew past my head and landed just a few feet from me in some ornamental grass.  It sat long enough for me to take a few shots and get within just inches of it before taking flight again.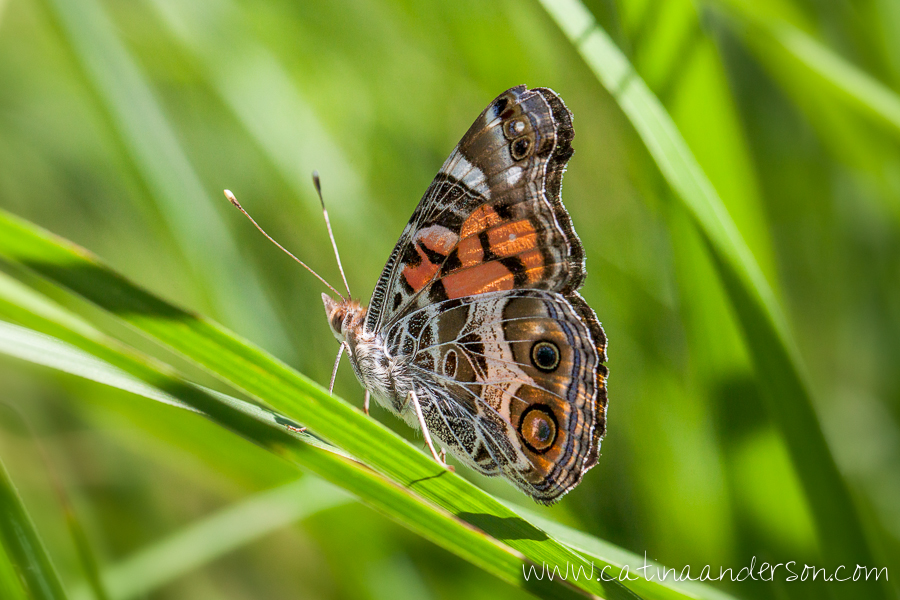 So far, other than the cabbage whites, I really haven't noticed the butterflies in my yard taking any interest in the flowers as of yet.
Today I have a few coneflowers just starting to bloom.  Salvia in full bloom.  Yarrow starting strong.  Coreopsis (three types).  Blanket Flower.  Daisies.  Veronica.  Spirea.
And really very few butterflies that do more than just fly over the grass on their way to somewhere else…
From a gardening standpoint I am focusing on continuing to add butterfly friendly flowers to the yard while learning about native host plants for each species.  Yesterday I got most of my remaining seed put into seed starter trays (I am quite late getting started… but most are perennials so I'm hoping they will at least get a start before fall and be good to go next year the way the coreopsis and blanket flower I planted late last year have).  The annuals are simply zinnias and marigold so I should still be able to get them to seed so I'll have more seed to spread next year.  We cleared our field garden which had become overgrown with brambles and I'll plant these seedlings down there as a sort of plant nursery space… We'll use that area to see what does well and then as it gets established move the plants into the more decorative beds nearer to the house.  I have a long wish list of host plants I'd like to add to the yard but those will come more slowly as we have to work within a reasonable budget and we planted a patch of blueberry bushes for ourselves already this year.  Topping my list would be spicebush and paw paw.
Alrighty… so that's a quick update on the progress here on our butterfly acres

  We're also quite enjoying the visiting birds now that we've set out a feeder station.  The kids start summer vacation tomorrow so I'm excited to share all I'm learning with them!