Thought I'd post 2 quick Valentine ideas you can still do if you need a last minute idea.
They are both traditions in our family.
Heart-Shaped Dinner
The first tradition is we have a pizza dinner with pepperoni (or ham or whatever topping you like) in the shape of a heart.  It started when I ordered Papa Johns on our first wedding anniversary and asked them if they'd put the pepperoni in the shape of a heart.  Guess what?  They did it!!  So fun… then it became a bit of tradition for either Valentines or anniversaries. Now we DIY – A DiGiorno Pizza along with the toppings of choice artfully arranged.  Quick and Easy.
Love Song Mix-Tape
The second is the classic "mix-tape."  Only… like all things… it has evolved over the years as well.
Now it's the "Mix-playlist."
We started making each other "mix-tapes" when we were 16.  20 years later I'm still making them.
The past year a new service called Spotify has really made it so much easier to discover new love songs we don't already have (gosh… I do remember the days I sat with my "boom box" waiting for a love song to come on the radio to quickly press record before it got too far in… lol).  With Spotify we can listen to pretty much any song we want in it's entirety (and you can see other playlists people have shared).  Then, once you've narrowed your choices to a playlist you only need to purchase exactly the songs you want through iTunes to have them on our phones (or you can pay for a subscription to Spotify to build playlists within spotify that can carry over to your phone)
If you think it might be fun to put together a mix-tape today I created a playlist I'm calling "Long List of Love Songs" in spotify (you'll see a few that are clearly from the 1990s pulled from old mix-tapes… lol – I almost didn't post some of these because it's a bit embarrassing!)  Some of these we've used and others I've just found in searching and added them to the list for future reference or so I can come back and listen to them in their entirety at a later date.  At any rate it can be a quick way to pull together a good mix-playlist.
Here's the link to the whole playlist: Long list of love songs
It's funny looking back at some of our old mix-tapes.  Some of them have songs I'd never listen to anymore… but they tell a tale of who we were and what music was like at that point in time.  Pretty fun.
AH!  And a BONUS IDEA – this one from Julie Royes!

 (Love HER!)
She and little Dylan punched out a bunch of paper hearts that they've been handing out throughout their weekly travels.  Tonight she wrote out about 30 of them with "I love you because…" on one side and a reason on the other side and hid them among her husband's things.  She's anxiously awaiting the moment he starts to find them!!  She shared a picture with us early in case you might like to do this fun idea too!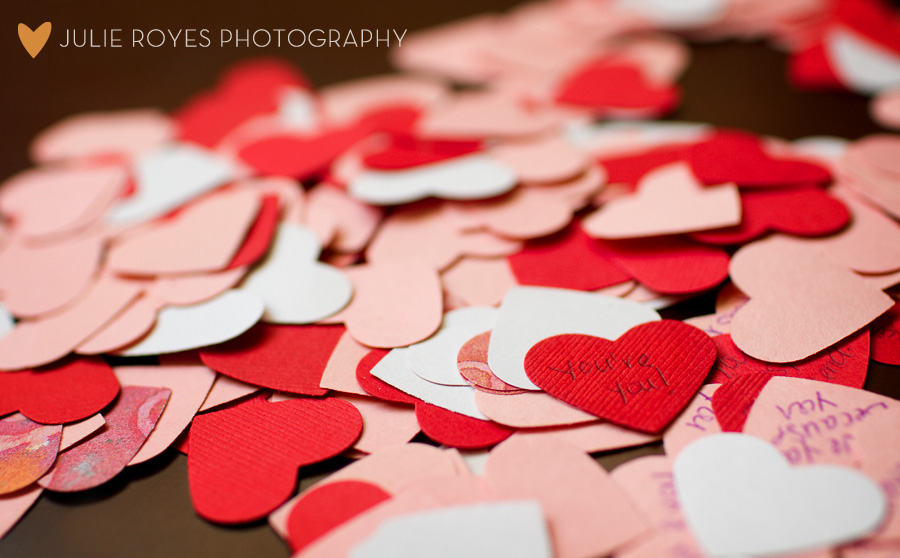 Happy Valentine's Day Friends!!  Celebrate love today in all it's forms – friendship, kindness, parent, spouse, romantic….  the world is full of love and today should be about celebrating all of it.  Not just romantic love.  Spread a little love and it will come back to you.