Just like Mondays are reserved for a weekly glimpse into the marching arts world, Thursdays here at Catina Anderson Photography are henceforth designated Theatre Thursdays – a weekly feature where I get to share my favorite theatre or performing arts photos.
I love the theatre.
And I'm not-so-secretly hoping to expand my work with theatre groups. 
This week's photo was taken during a November 2011 performance of Snow White and the Seven Dwarfs by a Theaterpalooza workshop class at the Old Stone School in Hillsboro, VA.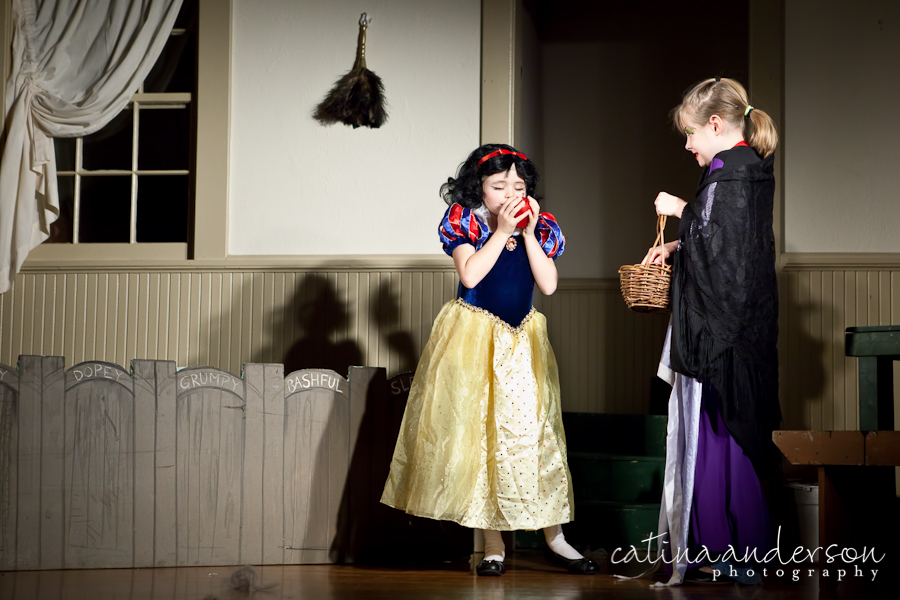 My daughters were part of this production, playing Bashful and Doc.
I have to say both as a parent and as someone with many years of experience in both education and the performing arts I was very impressed with the experience my children had in this class.  The teacher, Ms. Jennifer, was absolutely amazing.  She had the students hanging on her every word.  She was both talented and kind.  The quality of the finished production was also quite impressive.  I couldn't believe how smoothly everything came together and how well this talented group of little performers did.  My face ached from smiling so much!  And my kids have been begging me to sign them up for more plays ever since.
Special thanks to the moms of Snow White and the Evil Queen for letting me share their picture here!  And thanks to Theaterpalooza from this mom for the fantastic experience!