This week I asked one of our facebook group members to share a special project that she participated in to celebrate a friend's 40th birthday.  So I'll turn it over now to my friend Jennifer Heffron (and this week's word of the week will be posted at the end).  If you'd like to share any of the projects you've done so far please let me know!  Love to get that kindness inspiration out there!
*************************************************************************
Forty Acts of Kindness in Honor of a 40th Birthday!
by Jennifer Heffron, Artisan Handbags & Accessories
While I certainly cannot take credit for this idea, I did want to share it with this group because it is so perfectly relevant to what Project 52 is all about!  Not only does it honor a friend's birthday in a unique way, it encourages acts of kindness and illustrates the positive power of social media to make a great idea contagious.
My friend, Colleen Magin Carpinelli, turned 40 on Saturday, April 27th of this year.  Colleen lives in Richmond, Virginia, has three daughters (the two oldest are twins), is a graphic designer, loves to read and to travel.  She is part owner of Artisan Handbags & Accessories, which is how I came to know her…we are business partners.
A mutual friend of ours, Tracey Flynn Portillo, decided to organize a "Day of Inspired Giving" in honor of her birthday.  The idea was that 40 people would do an act of kindness in honor of her birthday.
Colleen and Tracey have been friends since childhood, so Tracey knew a lot of folks to reach out to for help with this project.  She got the word out by sending out a message on Facebook ahead of time so that people had time to think of what they wanted to do.  On Colleen's actual birthday, Tracey posted a thread that we all responded to with what we were doing in her honor.  Here is her post:
"Today in celebration of you, on your 40th birthday, I would like to announce a Day of Inspired Giving!!   Throughout the day, your friends and loved ones will be posting about acts of kindness inspired by YOU! Your compassionate, generous and self-reflective ways make an impression on everyone around you. I can't wait for you to hear the "gifts" you have inspired!"
photo used with permission of Colleen Carpinelli
Our deepest wishes are whispers of our authentic selves.   We must learn to respect them. We must  learn to listen. 
- Sarah Ban Breathnach
When Tracey sent me the message I immediately agreed to participate, but what to do?  After some initial brainstorming, I came up with two ways to honor my friend.  One way was specifically for Colleen, and the other was an act of kindness to benefit others, but in honor of her.  First, I decided that I would post an inspirational quote on Colleen's Facebook wall for 40 days, a quote for each day.  Colleen is a very creative and reflective person, who has always struck me as a person who appreciates inspiration from many different places.  So, I set out to find 40 quotes that reminded me of her.  Not an easy task, but so far we are on Day 12.
The second act of kindness I did was that I walked in the March for Babies walk, a fundraiser for the March of Dimes, this past Sunday.  This event was appropriate for Colleen in two ways.  First, her twin girls were born prematurely, so I knew that Colleen would appreciate my supporting the March of Dimes.  Second, the Junior Woman's Club of Loudoun, to which I belong, was sponsoring a team to walk.  Colleen used to be President of her Junior Woman's Club Chapter, so I knew she would like that too.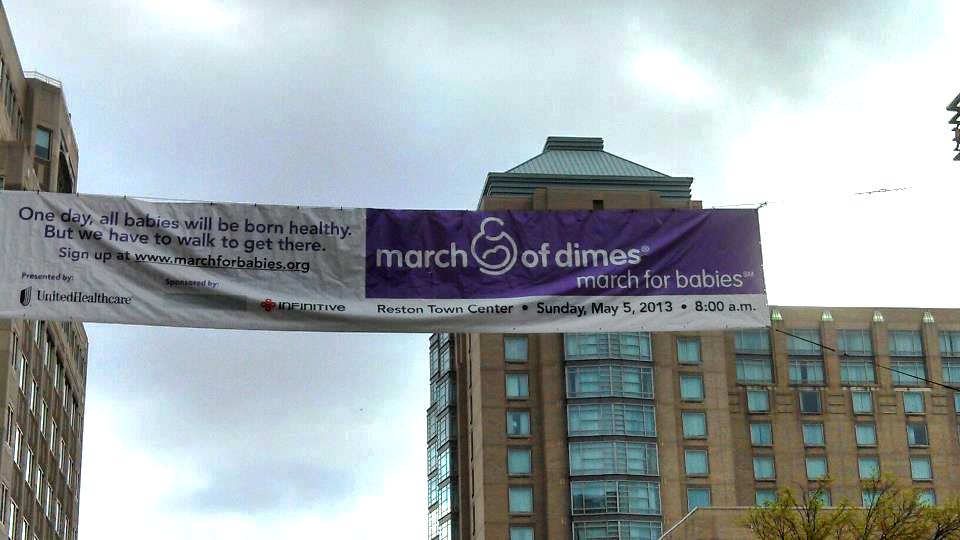 photo by Jennifer Heffron
Here are some examples of the acts of kindness folks decided to do.  Some are big and some are small, but all reflect the generous spirit of Colleen.
Someone donated 40 books to an elementary school that serves a population in need.
Another person visited with an elderly member of their church who had just suffered from a stroke.
Someone else spread mulch and beautified the community area in their neighborhood.
A friend who had just reconnected with Colleen decided to reach out to 40 people she doesn't get to talk to enough, but wishes she did.
Still another friend and her daughter helped people carry their groceries to their car and gave them each a flower.
Someone else bought the movie tickets for the next people in line as a way to "pay it forward."
Because a friend admires Colleen for being such a great mother, she is purchasing copies of "The Giving Book" by Ellen Sabin for her friends with children who are the right age.
Another person sponsored someone for $40 for a fundraising walk.
Two friends of Colleen's decided to offer a scholarship for two people to take their GED test.
One of the women who sews for our company decided to make three dresses and donate them to three little girls, in honor of Colleen and her three daughters.
Another person made cookies for the local NICU, in honor of Colleen's twin daughters.
As for Colleen's reaction to this amazing gift, she posted on Facebook, "I am touched and thrilled and blown away by the birthday messages and acts of kindness done in my honor.  Truly, truly moved.  Thank you friends! Here's to 40 being the best year ever…great things await!!"
For all the criticism Facebook sometimes receives, it would not have been possible to organize such an effort so easily, or to share what we were all doing with Colleen and each other, without this medium of communication.  Facebook is a very powerful tool, but acts of kindness are even more powerful!
I hope you will consider doing something similar for your friend's special birthday, or your parents' milestone anniversary.  It doesn't take a lot of effort to organize, doesn't cost very much, but makes a huge difference to the gift recipient and to those the acts of kindness touch.
*************************************************************************
Thank you Jennifer for sharing such an inspiring story!  There is so much we can learn from your post.  From the overall big project to inspiration for individual acts of kindness you've given us lots to think about!  Thank you so much for sharing with us!
WEEK 20:
Week 20′s word of the week is:
ENCOURAGEMENT
How can you be encouraging to those around you this week?  Send us your best ideas!  We'd love to share them!!