Much of what I loved about coaching color guard was completely unrelated to the colors and choreography and music and performances.
I loved the teaching.  I loved seeing young performers grow into mature young adults.  I loved the little moments when they didn't realize I was paying attention…
…when I realized that they were paying attention.
These are magical moments when we get a glimpse that all the talking and teaching and training and experience has paid off.  When we know that they "got it."  That they understood some underlying purpose for what we were doing.  For me, when the "got it" moment is a life skill or leadership skill it is even that much better.
Last season during a "Day in the Life" session with one local winterguard I captured the image below which makes my heart sing.
To an observer it may appear to be just a simple snapshot.  It's messy – the background is cluttered… it may be unapparent to someone outside of the activity what is going on here.  BUT… to me and to their coach and their parents, THIS picture is what it's all about.
This was taken just moments after the award ceremony.  The team in blue had just received 2nd place and the team in green had won.  Both teams are from high schools within the same county school district.  In most cases at the conclusion of the award ceremonies teams simply scatter – captains run back over to their teammates to celebrate – teams head out to the bus.
But on this day the captains from the team in blue immediately turned to the team in green – without even a moment of hesitation and with no prompting from their coaches – to congratulate them… not an ounce of disappointment on their faces.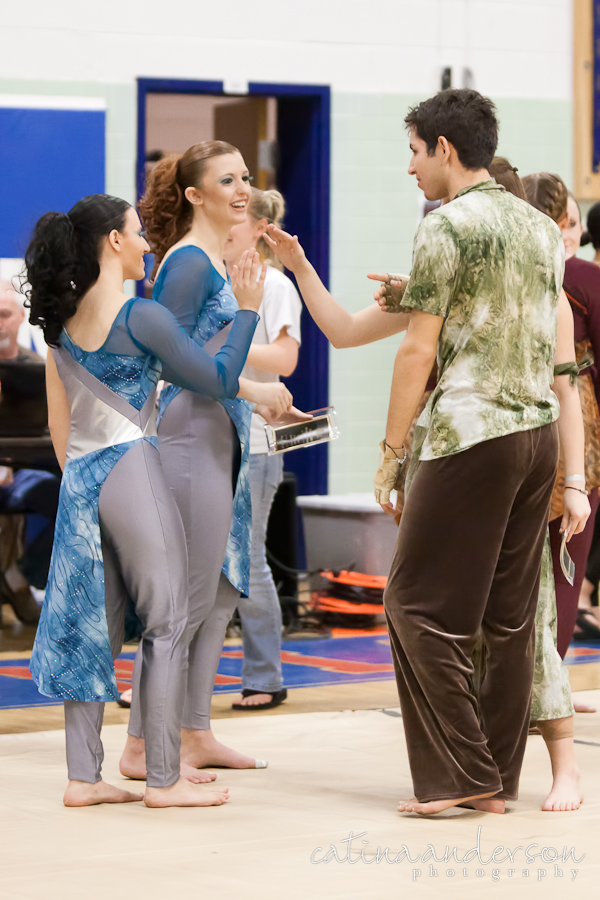 They "got" it.  Sportsmanship.  Grace.  Maturity.  They "got" it.
And because of that, this "snapshot" makes my heart sing… <3