It's Monday – and here at Catina Anderson Photography that now means it's "Marching Arts Monday."  It's my day here to publicly celebrate and share this beautiful and enriching activity that has brought so much to my life.  I love that I get one day a week to share it here with readers who may not be familiar with the activity – perhaps those of  you who found me through my theatre work or my real estate photography.
Today's photo is one that I took a couple years ago actually.  In many cases when we photograph fast-moving sports we are trying to freeze the action.  We're looking for the fastest shutter speed we can get under the lighting conditions available.  But sometimes it's really beautiful to embrace the blur and let the image really give a sense of the action.  Here the main subject is stationary but I find the blur in her silk just beautiful – how it implies motion – how the colors melt together.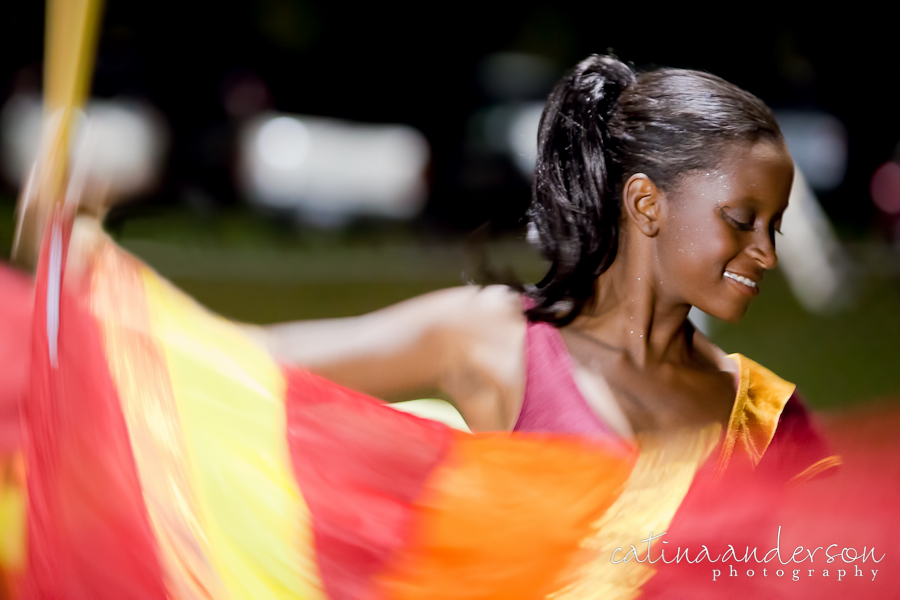 And goodness wasn't I lucky to have such a beautiful subject with such a beautiful smile in this young performer!
This one would look gorgeous as a canvas print…
If you are a colorguard coach and would like photos of your season please contact me.  I offer headshot sessions, action shots sessions and even "day in the life" sessions where I apply a photojournalistic approach, following your team throughout a competition day for a true glimpse into the heart and soul of the team.  Email me here for information on availability and rates.